Gia Margaret
Contact
Chicago singer/songwriter/producer Gia Margaret describes her music as "sleep rock." It's a genre all her own, combining elements of folk, shoegaze, slowcore, ambient electronica and trip hop.
For her self-produced debut album, 'There's Always Glimmer' (out July 27, 2018 on Orindal Records), Gia Margaret crafted twelve gorgeously melancholic lullabies to combat her own insomnia, and to salvage some beauty from the brighter and darker moments of her life.
'There's Always Glimmer' explores relationships between friends, family members and significant others, often in past tense. Sparse verses isolate mundane moments of domestic and urban life, and choruses ache with earnest expressions of yearning and loss. The disarmingly simple language of Gia Margaret's lyrics, when carried by the melodic sparkle of her singing voice, have the power to elevate an ordinary moment into something supremely nostalgic and sentimental. A ride on a train, a hand on a shoulder, a dog in a yard, the light of the moon through an apartment window are each made significant and sacred, worthy of examination and preservation.
As much as it addresses the unease in our lives, each song on 'There's Always Glimmer' is steeped in loving comfort, awash with gentle sounds to usher the still minutes before dreams come, when we're left alone amidst the shadows and the echoes of our memory. 'There's Always Glimmer' exists to fill the darkness and the quiet.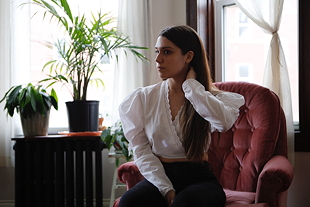 | | | | |
| --- | --- | --- | --- |
| Jan | Feb | Mar | Apr |
| May | Jun | Jul | Aug |
| Sep | Oct | Nov | Dec |