Helmet
Contact
'Seeing Eye Dog', HELMET's seventh album, is one of the band's most uncompromising and ambitious releases, embodying the classic and utterly unique HELMET sound and pushing it into regions the band has never before explored. One big reason for that spirit of musical adventure is the record is essentially self-released (through the Work Song label). "I just felt completely free to do whatever I wanted to do," says frontman Page Hamilton. "It was really fun to make this record because I just felt this... freedom."
Freedom can also arise from limitation, something Hamilton knows well-- as ever, he insisted on having few overdubs and edits on 'Seeing Eye Dog'. "This album is human and honest," he declares."People have always commented that we sound like our albums live, and our recording approach has a lot to do with that. Humans playing music will always be better than chop-shop rock."
Besides Hamilton, the humans on 'Seeing Eye Dog' include drummer Kyle Stevenson, who joined HELMET in 2006, guitarist Dan Beeman, who's been on board since 2008, and long-time HELMET bassist Chris Traynor. (Dave Case is the band's touring bassist.) The album was produced by Hamilton, with additional production by Toshi Kasai (Melvins) and vocal production by Mark Renk.
Some history: In 1989, Page Hamilton co-founded the New York-based HELMET, fusing Zeppelinesque riffing with a vehement post-hardcore precision, augmented by dense chords and offbeat time signatures based in Hamilton's formal jazz training. The combination was that rarest of visionary creations -- it was successful in its own time. After their 1990 debut album 'Strap It On' (on revered indie label Amphetamine Reptile), HELMET unleashed the major label 'Meantime' (1992), a widely acclaimed album that earned a Grammy nomination, went gold, and launched a thousand other bands. Betty followed in 1994, successfully branching out from the band's ferocious attack and into more varied musical waters. (In 2010, HELMET issued via their website HELMETmusic.com a digital-only deluxe version of 'Betty' that includes 14 original album tracks plus five bonus tracks.) Another acclaimed album 'Aftertaste' followed in 1997 and after nine years and thousands of shows, HELMET called it a day in 1998.
Hamilton went on to do soundtrack work for major Hollywood movies like Catwoman, S.W.A.T., Titus, and Saw, among others, formed the band Gandhi, and, following in the footsteps of greats like Adrian Belew and Stevie Ray Vaughan, played lead guitar in David Bowie's band in 1999. In 2004 Hamilton restarted HELMET, releasing two acclaimed albums -- 'Size Matters' in 2004, 'Monochrome' in 2006 -- and co-headlining the Warped Tour that year. HELMET did extensive US and European touring in 2009 in preparation for the new album.
Bands such as the Deftones, Rise Against, Pantera and Tool have all cited HELMET as an influence, and not just for HELMET's blistering, aggro approach but for the band's sheer musicality and brains. See, HELMET, among other things, is a work of art. Hamilton is a trained musician who happens to make heavy, brutal music, a guy who digs Bartok and Minor Threat. Which is why, as 'Seeing Eye Dog' proves, HELMET is a surprisingly flexible concept.
"The HELMET musical vocabulary is well established at this point, but I continue to work on a variety of musical projects that inevitably influence the HELMET songs," says Hamilton. "I've been working on movies with Elliott Goldenthal and co. for 17 years now and had never really experimented with incorporating these soundscapes (or shit sculpting as I prefer to call it) into HELMET songs. We had a much better recording situation in which I felt much less time pressure and was working with an engineer who was patient and very creative (Toshi Kasai), so away we went. I started layering upper parts of the chords and was digging the sound so I went with it."
'So Long' and the title track embrace the classic HELMET approach: raging slabs of guitars, drill-sergeant vocals, drums like an expert beating, and guitar solos that scrawl hectic graffiti across the band's monolithic attack. The lyrics, as Hamilton has said, spring from a combination of "comedy and disgust," particularly in the scathing 'Welcome to Algiers' and 'In Person.'
But 'Seeing Eye Dog' also finds HELMET pushing at its own boundaries -- the grimly affecting 'White City,' for instance, is as close to a ballad as HELMET has ever dared. 'LA Water' sounds like a Beatlesque HELMET and later, 'And Your Bird Can Sing' is a HELMETesque Beatles, with the band wielding the Fab Four's standout 'Revolver' track like a molten sledgehammer. The mostly instrumental 'Morphing,' the luminous sound sculpture in the middle of the album, might seem unlike any other HELMET track, and yet it has the same monumental quality as the band's most brutal work. (And if you hunger for HELMET in all its live glory, 'Seeing Eye Dog' comes with a bonus disc, a blistering live set from the San Francisco stop on the 2006 Warped Tour.)
The freedom and adventurousness of 'Seeing Eye Dog' (title via Ezra Pound, by the way) didn't come out of nowhere. Hamilton encountered some record label interference in the past and vowed that it would never happen again. "After that, I said, I built this thing and this is the way it is," Hamilton says. "Fortunately, those experiences ended up helping me maintain a singular attitude that's really conducive to writing rock songs."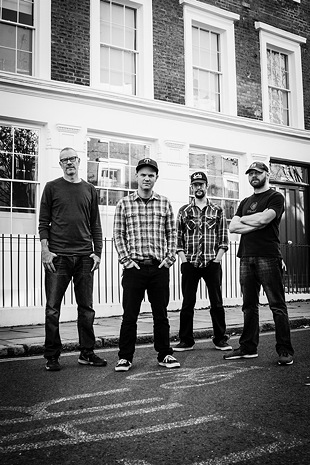 02 May, 2019

Helmet: 30 Date European Tour

Seminal New York City rock band Helmet has announced a headline tour of 30 cities across Europe. Beginning in Prague on September 3rd, the tour will take the band through 14 different countries before ending in London on October 10th at the O2 Academy Islington.

Helmet is celebrating their 30th anniversary this year and plans to mark the occasion by performing a 30 song set each night. They will be playing songs from across their catalogue of eight critically acclaimed studio albums, as well as rarities from older EP's and singles - with the possibility of a few covers mixed in for good measure. There will be no opening acts on any of the shows.

Founder and frontman Page Hamilton reflected on the occasion: "The day John, Peter and I auditioned Henry is the day I consider to be the beginning of Helmet. The year was 1989 and I think the month was May. I love playing this music more than ever with my current bandmates, Kyle, Dan and Dave. To celebrate 30 years of recording and touring we decided to play 30 songs a night in 30 cities in Europe and 30 more cities in the USA. We hope to see you all there."

Tickets to the European shows go on-sale this Thursday, May 2 at 10am local time.

21 Mar, 2018

Helmet: Wacken Open Air Festival

Helmet will play the Wacken Open Air festival in Germany, between 2nd and 4th August 2018.

06 Mar, 2018

Helmet: Brutal Assault Festival

Helmet will appear at the Brutal Assault festival in the Czech Republic, during August.

https://shop.brutalassault.cz/en

20 Feb, 2018

Helmet: 'Dead To The World' European Tour

This summer sees the return of none other than Helmet to Europe.
The tour in support of their most recent album 'Dead To The World' will take the Gold certified and Grammy nominated US band to 14 cities, ranging from Sint-Niklaas in Belgium to Budapest in Hungary. Not only will Helmet be playing headline shows but they will also perform at selected festivals - with more to be announced soon.

'Dead To The World', Helmet's latest studio album, comes with heavy guitar riffs, blasting drums and the distinctive voice of front man Page Hamilton. With its unique mix of hard rock, alternative, metal and punk, Helmet once again showed the world how versatile a rock album can be.

"[Helmet's eight studio album]... finds them marking the territory they rightfully own by stamping it with some of the heaviest, most earth-shaking riffs you'll hear this year." - Classic Rock (UK)

"Helmet sound so much more mature than the competition. Strong comeback!" - Rock Hard (GER)

"'Dead To The World' is a beautiful homage to a time in which riffs were able to conquer all genre borders." - Metal Hammer (GER)

07 Mar, 2017

Helmet: Graspop Metal Meeting

Helmet will appear at this year's Graspop Metal Meeting, which takes place at Dessel in Belgium, between 16th-18th June.

30 Nov, 2016

Hellfest 2017

Both Helmet & Monster Magnet will be appearing at Hellfest in Clisson, France in June 2017.

05 Oct, 2016

Helmet: New Album & European Tour

"All news is bad news" spits Page Hamilton's distinctive voice from the speakers, accompanied by the unique, dynamic fusion of classic rock, hardcore and off kilter grooves that have inspired countless others. Nobody sounds quite like Helmet.

Most definitely not - and most definitely not all news is bad news as today sees the digital release of 'Bad News' - the first song to see the light of day from 'Dead To The World', the band's first album in six years.

The song opens with a sustained ringing sound - reminiscent of the Beatles' 'Tomorrow Never Knows,' but the invocation is quickly and abruptly interrupted by a wall of distorted guitars.

Hamilton's vocals provide a calm counterpoint to the propulsive music with a confident, almost detached nonchalance. He delivers the repeated line "all news is bad news from now on" with equal parts despair, resignation, and amusement. His is the voice of a weary observer looking for catharsis.

The song is taken from Helmet's upcoming album 'Dead To The World' that is going to be released as 1CD digipak, transparent Vinyl and Digital on October 28th, 2016 on earMUSIC.

The Gold certified and Grammy nominated band Helmet will introduce new songs as well as play Helmet classics on their upcoming 40 date European tour. Starting on January 21, 2017 in Prague, Czech Republic and wrapping in March 12, 2017 in Glasgow, Scotland.

28 May, 2014

Helmet: 'Betty' 20th Anniversary European Tour

Helmet are pleased to announce a European Betty 20th Anniversary Tour in September/October 2014. The band will be playing their critically lauded 1994 'Betty' album in full, along with a set spanning the entirety of Helmet's catalog.

Billed as the "thinking man's metal band," Helmet provided an alternative to the grunge bands coming out of the US at the time with their clean cut aesthetic and raw, unrelenting, propulsive sound. 'Betty' came on the trails of the band's first mainstream success, 1992's 'Meantime'. The cut 'Milquetoast' became a music video staple on MTV and the album was critically praised for its genre-defying exploration into jazz, blues and improvisation. As music writer Darrell Bassett wrote upon the album's release, "The thump and grind of 'Betty' fully reflects the seemingly meaningless forces that shape our hi-tech existences, the inner pressure that waxes and wanes as life's pace explodes exponentially and its occasional moments of grace. Betty is a surprising album, one which grows as it unfolds its subtleties." A prophetic statement if ever there was one.

See artist page for a full list of 'Betty' tour dates and check local listings for on-sale information.

"Helmet made rhythmically complex steely-riffed alterna-metal that punished your body from weird angles..." - Rolling Stone Magazine

"Helmet have carved - or, rather, bludgeoned - a niche as primary exponents of pummeling, monolithic, heavy guitar-rock. The sheer size and power of their sound dwarfs all but the most extreme of hardcore bands, but there's a precision to Helmet's sound that sets them apart."
Time Off Magazine (1994 'Betty' album review)

30 Nov, 2011

Helmet: 'Meantime 20th Anniversary' Tour

Helmet are pleased to announce a European 'Meantime' 20th Anniversary tour in March/April 2012. The band will be playing their iconic 1992 'Meantime' album in full, plus a host of other Helmet classics, as well as songs from their latest album, 'Seeing Eye Dog'.

Billed as the "thinking man's metal band," Helmet provided an alternative to the grunge bands coming out of the US at the time with their clean cut aesthetic and raw, unrelenting, propulsive sound.
'Meantime' gave the band their first taste of mainstream success - debuting at #68 on the Billboards Top 200. Singles 'Unsung' and 'In The Meantime' went on to become hard rock radio classics and paved the way for many other alt rock bands to come. The album sold 2 million copies worldwide and remains a rock music staple.

Last year Helmet returned with their critically acclaimed 7th studio album 'Seeing Eye Dog' The album's 10 tracks include the title cut, 'Welcome To Algiers', 'White City' the mostly instrumental 'Morphing' and a cover of the Beatles' 'And Your Bird Can Sing'.

See Helmet's complete TOUR DATES here.