KEYAH/BLU
Contact
Think a cross between Spinelli from Recess and O.D.B: from the depths of South East London comes rapper and singer KEYAH/BLU.
Rapping with vulnerable innocence juxtaposed with a raw uncensored edge, KEYAH/BLU finds an enthralling esoteric balance between light and dark in her art. With her disparate influences from across the spectrum, Fleet Foxes and Lil' Kim to name just two, KEYAH/BLU marries her own ethereal harmonies and vocals underneath her hard-hitting bars to spin tales of life as a young girl or boy floating through the novel extremities of everyday life.
2018 saw KEYAH/BLU release her first official single 'Sweet'. The video for the track was commissioned by 4:3/Boiler Room and premiered via The FADER. 'Sweet' garnered further press support from CLASH, Dummy, Trench, RWD and more, with radio support from Phil Taggart (BBC Radio 1), Jamz Supernova (BBC 1Xtra) and Tom Ravenscroft (BBC 6Music).
With more music set for release this year and beyond, KEYAH/BLU is truly one to watch. Her relatable contrasts define her message, and whilst her innocence may illustrate a sense of naivety, rest assured, KEYAH/BLU wears the trousers in her carefully carved musical lane.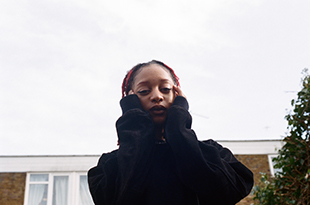 tracks=523158810