Mineral
Contact
"When Mineral broke up in 1998, they had been together for only four years and released only two full-lengths, yet their shaping of the indie rock landscape cannot be overstated." - All Music Guide
'EndSerenading' was the second, and final album released by Mineral. It was the definitive statement by the Austin, TX-based band. So final, in fact, that the band members had actually gone their separate ways prior to the album's release in 1998.
What ended in 1998 actually began four years earlier, in Houston, TX, when friends Christopher Simpson (guitar/vocals), Jeremy Gomez (bass), Gabriel Wiley (drums) and Scott McCarver (guitar) formed the band.
Mineral launched into touring immediately, often alongside other indie bands like Jimmy Eat World, The Promise Ring, Texas is the Reason, Knapsack, Braid, and The Get Up Kids, garnering them a legion of fans from the outset.
Eventually the band relocated to Austin, TX and a debut single, 'Gloria' b/w 'Parking Lot' on Caulfield Records followed, as did more touring.
Via a 'zine editor in Colorado, the single found its way to Jeff Matlow at crank! A RECORD COMPANY, which eventually led to an album deal and the release of 'The Power Of Failing' in 1996.
Upon the release of their first album, Mineral quickly emerged as one of the leaders in the burgeoning indie/emo music scene. College radio loved the record. The press gushed about the band. It was inevitable that the major labels would come calling and Interscope Records eventually signed the band.
Such were the circumstances when the band went into Big Fish Studios in San Diego, California with Mark Trombino (Blink 182, Jimmy Eat World) to record one final record for crank! A RECORD COMPANY. 'EndSerenading' was the result. The songs for the record had not come easily, nor did the recording of them. But the album was strong, emotional and daring. It was a Mineral album.
And then it was over. A statement citing creative differences was issued. The album was released and new bands were formed. Christopher and Jeremy went on to form The Gloria Record and Gabe founded Pop Unknown. Simpson also occasionally performs under the moniker Zookeeper.
But in a short amount of time, Mineral's combination of poignant dynamics and impassioned lyrics about coming of age was influencing bands everywhere, and still inspires new bands today.
2014 marks the bands 20th anniversary, and the first time Chris, Jeremy, Gabe, and Scott have shared the stage together in 16 years.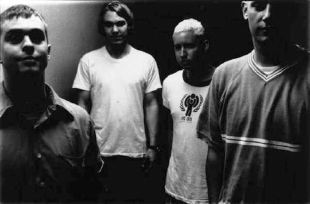 | | | | |
| --- | --- | --- | --- |
| Jan | Feb | Mar | Apr |
| May | Jun | Jul | Aug |
| Sep | Oct | Nov | Dec |