Rina Sawayama
Contact
Releasing her critically-acclaimed debut album SAWAYAMA in the height of a global pandemic was a brave decision for Rina to make, however her leap of faith paid off in leaps and bounds. The much applauded alternative-pop album has amassed over 100 million worldwide streams since release and ranked in over 50 album of the year lists for 2020, including New York Times (#2), The Guardian (#3), Dazed (#2), Rough Trade (#3), Rolling Stone (#6), Vogue (#14), NME (#7) and a prominent feature in the BBC's Albums of the Year. Last year saw Rina grace the covers of Time Out London, Attitude Magazine, King Kong, Crash, DIY and more. But her place as a true popstar was truly cemented at the end of 2020 when she made her TV debut performing single XS on The Tonight Show Starring Jimmy Fallon.
SAWAYAMA was years in the making "I wanted to make sure it was the debut I wanted to make" she says, "and I wanted it to be an experience. I want this album to take people on a journey." For Rina, no genre is off-limits, be it the early 00s boyband-era pop bangers that peppered 2017's celebrated mini-album, RINA; 2018's soulful pansexual anthem, Cherry or the nu-metal smash STFU! from her critically-acclaimed debut album SAWAYAMA. It's this daring attitude that's seen her be hailed as the 'future of pop' and join the upper echelons of left-field pop's current premier league, a move further augmented via multiple sold out headline shows, support slots with Years & Years and Charli XCX and a highly-anticipated headline tour in 2021.
Born in Japan but raised by her single mum in North London, she's always had to fight that little bit harder. Even when her determination and obvious intelligence landed her a place at Cambridge University studying politics, psychology and sociology, she had to put up with bullying and countless micro-aggressions, the continuation of the latter inspiring the pent-up aggression of STFU! and it's tongue-and-cheek video. When she graduated and subsequently turned down countless high-paid city jobs, much to her mum's chagrin, she funded her early music by modelling, working her way to the top of an industry with its own problems around race. Even in recent years – despite her hyper-modern bops being written about by the likes of Fader, The Guardian, Paper and the New York Times – she's relied on her side projects as a way of funding her real passion; music. "I've done a lot of brand campaigns recently that I've worked around tours and recording," she says. "It's great, I'm so lucky, but truth be told I didn't keep any of that money, it just went right back into the music. I realised I hadn't saved anything." And that's why her chosen record label home, Dirty Hit are so important. There's only so much a self-confessed "typical freelance Londoner" can do.
SAWAYAMA saw Rina work with regular collaborator Clarence Clarity in London, and in LA with the likes of Bram Inscore (Troye Sivan), BloodPop (Lady Gaga), Nate Company (Carly Rae Jepsen) and Nicole Morier (Britney). "I wanted to make the songs better and push myself constantly," she says of working with new collaborators, a list that also includes Danny L Harle, Lauren Aquilina and Jonny Lattimer. "People always want the same thing, but I didn't want to do it." Throughout the record, Rina touched on many personal themes. "Previously I've put this sort of societal angle on it, because that pleases me, trying to take my story and make it into a bigger thing," she explains. "But I've been using music quite therapeutically recently, to understand things that are happening in my life."
Rounding off 2020, Rina released the deluxe version of SAWAYAMA which provided a further extension of the already esteemed debut. The extended version of the album featured the addictive BloodPop (Lady Gaga, Justin Bieber) produced single LUCID, which married Rina's mesmeric vocals with a kaleidoscopic-like dance soundscape. Other fan favourites are also included in the deluxe edition like XS ft Bree Runway, Comme Des Garçons (Like The Boys) Pabllo Vittar Remix and cover The 1975's Love it If We Made It alongside previously unreleased tracks; We Out Here which highlights resilience and being true to yourself whilst Bees & Honey serves future nostalgia and emphasises the need to celebrate hard work.
Rina Sawayama, aka pop's brightest new superstar, reigned supreme over 2020 but strap in, as things have only just begun.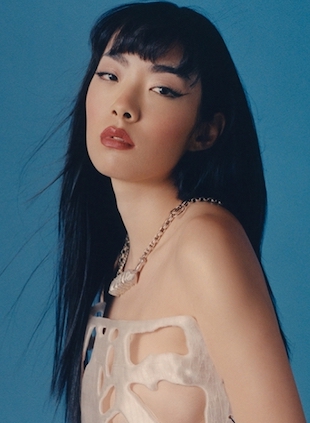 | | | | |
| --- | --- | --- | --- |
| Jan | Feb | Mar | Apr |
| May | Jun | Jul | Aug |
| Sep | Oct | Nov | Dec |