Ron Sexsmith
Contact
A singer-songwriter acclaimed by a galaxy of artists from Bob Dylan to Elton John, Chris Martin to Michael Bublé, Steve Earle to Lucinda Williams for his insight into the human heart and a melodic purity (to paraphrase admirer Elvis Costello) unheard since the heyday of Paul McCartney, you'll find him straight after the Sex Pistols in any self-respecting encyclopedia of modern music.
That's as close as Ron Sexsmith has ever got to in-yer-face hard rock.
Until now.
For his 11th album, 'Long Player Late Bloomer' (COOKCD531), the award-winning troubadour has paired himself with a fellow Canadian, the producer of bone-crunching classics by Metallica, Motley Crue and The Cult - the genuinely named Bob Rock.
"I'd seen the Metallica documentary, Some Kind Of Monster, and I got a good vibe from Bob; he seemed the only sane person working with a band that was falling apart. Even so, I only saw Bob as a hard rock producer."
"Then, a few years back at the Juno Awards... (Canada's prestigious music awards; Ron so far has two Junos)... I ran into Bob at the curb waiting for a car to take us to one of the after parties. I never wanted the responsibility of producing my own music. I'm always looking for a producer who can help me frame the music in a way that people will get it. 'Know any good producers?' I asked Bob jokingly. He told me he was a fan, but I hear that sometimes and I'm skeptical."
"But at the same party there was Michael Bublé. Michael had just worked with Bob (on the multiplatinum-selling album, Crazy Love), which came as quite a surprise to me. He told me that Bob was a pop producer and that he would be great for me. That put the idea into my head of sending him the songs to see if there was any interest there. Bob's assistant got right back to my management saying he loved the songs."
"The hard part then was how to do it, how even to afford it. Because from the movie, I sensed he was a good person and that I could trust him. And I was right."
The reassuring news for Ron's loyal international fanbase is that Bob Rock's production does full and eloquent justice to another wonderful collection of Sexsmith songs. And the great news for everyone else is that every one of them sounds like an honest-to-God hit you turn up when it pops up on the radio.
"I've always been trying to make pop records, and all my heroes had hit records. When I was growing up, people I loved like Elton John and Joni Mitchell were essentially album artists who also had hits. My main objective was always to make cohesive albums but a lot of my stuff sounds like what I would like to hear on the radio. I was probably born at the wrong time!"
Born in a very good year, 1964, Ron grew up in St Catharines, Ontario, a paper-mill town 20 minutes' drive from Niagara Falls. Ron was brought up by his mother in low-income family government housing, his largely absent father leaving behind a box of Johnny Cash and Little Anthony And The Imperials singles which were Ron's songbook primers. A daydreamer at school, Ron was selected for a creative writing class and in his high school band played lead guitar.
Ray Davies was Ron's first and most enduring songwriting inspiration, followed by Lennon & McCartney, Paul Simon, Elton John and, he says "about 19 I started discovering people like Leonard Cohen and Gordon Lightfoot."
As a singer, Ron admires Harry Nilsson, Bing Crosby, Bill Withers and Charlie Rich, and places himself in that crooner tradition.
Moving to Toronto, Ron formed a band called The Uncool, and released a cassette, 'Out Of The Duff'. To support himself, Ron got a job as a foot courier, as recalled on the 'Long Player Late Bloomer' song 'Michael And His Dad.'
"It's a fictional account loosely based on me and my son, Christopher, when we first moved to Toronto," says Ron. "He was two at the time and I was looking for work. He had to tag along while I was job-hunting. We'd be in the doughnut shop and I'd read the want ads while he was bored out of his mind, wanting to go to the playground. The story of this little urchin following around his dad is kind of a Dickensian story. I've accumulated quite a few story songs over the years."
With the 1989 birth of his second child Evelyne, Ron found a second income to supplement the courier wage he earned for six years when, hungry for new talent, the label Interscope signed him to a songwriting deal.
In 1991, the limited cassette release 'Grand Opera Lane', an album recorded with the drummer of his Toronto band The Uncool, first attracted Interscope's interest. Four years later, the label recognized that not only had they a great songwriter on their books but a singer and guitarist of rare accomplishment too. Ron Sexsmith's 1995 self-titled 'proper' debut, produced by Mitchell Froom, represented the cream of nearly 200 songs that had been road-tested for years in the bars of Ontario and was acclaimed by fans from Elvis Costello down as an instant classic, with Rod Stewart one of several artists to cover the first song, 'Secret Heart.'
What has followed is a body of work that very few songwriting recording artists, living or dead, can match for consistently sky-high quality. As legendary record producer to artists from Dylan to U2, Daniel Lanois, told 'Love Shines', the documentary about the making of Ron's new album, 'Long Player Late Bloomer', "Not a lot of people have Ron's gift: the ability to see a tiny snapshot of a feeling, then expand upon it and deliver a beautiful song. The songs are like Polaroids."
For the record, this is the full album role call:
- 'Grand Opera Lane' (1991)
- 'Ron Sexsmith' (1995)
- 'Other Songs' (1997)
- 'Whereabouts' (1999)
- 'Blue Boy' (2001)
- 'Cobblestone Runway' (2002)
- 'Rarities' (2003)
- 'Retriever' (2004)
- 'Destination Unknown' (2005, withDon Kerr, released as Sexsmith & Kerr)
- 'Time Being' (2006)
- 'Exit Strategy Of The Soul' (2008)
- 'Long Player Late Bloomer' (2011)
Among the artists who have covered Ron's songs are: Rod Stewart, Michael Bublé, k.d. lang, Nick Lowe, Feist, The Brodsky Quartet, Curtis Stigers, Anne Sofie von Otter and Mary Black.
It's a mighty portfolio, one that seemed to finally be validated in 2005 when he won the coveted Juno Award as Songwriter of the Year.
Though no stranger to the stage and a performer whose concerts are always intimately heartwarming affairs, Ron is naturally shy and ambivalent about public attention, craving validation of his music yet distrustful of success for success' sake.
"I'm content in general," he says. "I don't drive. I love going to the laundromat. I'm a writer. I go to watch people there. In Canada you can be at the Juno Awards and then return to your rented house like you've turned back into a pumpkin. There are no stars in Canada. We're all poor indie artists or people like myself who make no more than a living. I'm fine with that. I've never been interested in money which is probably why I don't have any."
Though he had only just married again, to the musician Colleen Hixenbaugh of the Canadian bands By Divine Right and Colleen and Paul, Ron was at a low ebb in the year after his brilliant but under bought 2008 album 'Exit Strategy Of The Soul'.
"I'd completely lost all my confidence, and I didn't have much to begin with," he recalls. "I'd put on a lot of weight and I was afraid to make a record - I felt, what's the point? A lot of the songs come from that place, even humorously; songs like 'Get In Line' and 'No Help At All' are kind of funny."
"I wrote a lot of these songs in New Mexico. We know some wealthy people there who let us stay in their guest house. My wife had rented me a guitar - I hate travelling with my own - and I instantly fell in love with it, and played it the whole time I was down there, writing 'Heavenly' and 'No Help At All' and others. There was a piano there but I went nowhere near it. The songs, except for 'Heavenly,' aren't all butterflies and rainbows. But it was also a very romantic time, and songs like 'Miracles' and 'Love Shines' reflect that."
"Before we went there, I didn't have a single idea. I guess it was because I had nothing else to do. I'd walk from the guest house into town to a coffee shop, and by the time I got there and back I would find I had a song almost finished in my head. I'd then pick up the guitar and figure out the chords."
"At that point in my life I was almost afraid to make another record. I had a bunch of songs that I thought were good, but I always think that. I was in a funk, and everything pointed me towards Bob."
With Bob Rock on board as producer with a crack studio band including guitarist Rusty Anderson (Paul McCartney), bassist Paul Bushnell (Elton John, No Doubt), keyboard player Jamie Edwards (Aimee Mann) and drummer Josh Freese (Devo, Nine Inch Nails), Ron came prepared with demos of 22 songs (slightly fewer than usual), from which 13 were selected for album release.
"Bob was great, a real cheerleader in the studio," enthuses Ron. "He's a calming guy. I never felt stressed out with him. He brought in the best musicians and we worked in the finest studios. It had been a while since I'd felt that. Back when I first came out on Interscope Records, who had money, I was recording in New York and flying to Los Angeles to mix the record, and that's how it felt doing this one. It sounds frivolous but it's a good feeling - like being in the big leagues again."
"With 'Love Shines', I was trying to write a song like Buddy Holly's 'True Love Ways,'" Ron discusses what sounds like a huge hit single-in-waiting, to be found next to last in the album's running order. "It was originally going to be the first song on the album. Then I heard it after it had been recorded and I thought it felt better near the end, like a showstopper. Like a movie, you don't want all your explosions at the beginning. I was like the director, putting the scenes where I thought they should go.
"I've made all these Lars von Trier records," he laughs; "I see this record as my action movie!"
"Musically, this record sounds upbeat but lyrically it's disillusioned," Ron admits. "There is a darkness there, but I didn't realize until I heard it back through the speakers, because at the time I wrote the songs, all sorts of other stuff was going on in my head."
"Playing it for the record company, someone said it sounded like my happiest album ever. Whoah! Somebody get that man a lyric sheet! But I've always loved people like Nilsson and The Kinks where the music was slightly at odds with the lyrics."
"Yes, there was a lot of self-doubt and worry," he reflects. "I tend to worry about stuff anyway. But writing songs definitely helps. I'm miserable if I'm not writing songs. When whatever anxiety you're feeling turns into a song, that cancels it out, in a weird way. And when I'm performing the song live, I don't get to revisit the anxiety. Once the song is finished I get to go out and record and play it, and that's the fun part."
"A lot of my friends go to therapy, but my family are reserved and I can't imagine telling all my troubles to some stranger. I'm lucky that I have the outlet of songwriting. Though in songs you sometimes tiptoe around things so as not to hurt people's feelings, writing songs is very therapeutic for me. I would vote for songwriting over therapy!"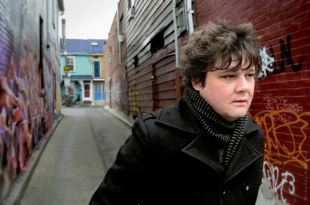 | | | | |
| --- | --- | --- | --- |
| Jan | Feb | Mar | Apr |
| May | Jun | Jul | Aug |
| Sep | Oct | Nov | Dec |