SUN SILVA
Contact
If a whole heap of great music has come from the impulsive, plug-in-and-play school of songwriting, then an equally large portion stems from very opposite beginnings. Ones based in precision and technical prowess, meticulously brewed into something even bigger and greater than the sum of its many parts. 
Influenced by the likes of Radiohead, Tame Impala and the emotive, fleshed-out latter work of The Maccabees, the first taste of those sessions came with 2018's 'Blue Light'. Featuring a full brass section and addressing the modern problem of "being obsessed with all these screen-based things that were stressing me out and I didn't even realise", it immediately garnered the group critical acclaim from the likes of Clash, Dork and DIY - who called the quartet "a band already full of ambition and with the songwriting chops to match".
'Blue Light' also featured on the soundtrack to EA Sports FIFA19.
 
Now they're set to continue that momentum with new single 'Sun Skin Air' - a more high-octane cut that combines propulsive beats with Temples-esque, harmony-laden psychedelic flourishes, due for release on February 8th. Written in "a horrible hostel with no fan" during a visit to Spain, it's the "hard-hitter" of their canon so far. "It's kind of Krauty; a bit more gritty," notes Oscar. "'Blue Light' is quite poppy, so we wanted something a bit weirder..."
SUN SILVA continue to put their firm stamp on the UK live scene.
They sold out their first London headline show at The Lexington, which they followed with high profile support slots for the likes of Jungle and Rolling Blackouts Coastal Fever.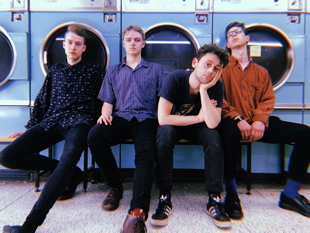 19 Jul, 2019

Kawala will tour the UK & Ireland during October, with special guests SUN SILVA.

www.facebook.com/KawalaOfficial

www.facebook.com/SUNSILVAOfficial

08 May, 2019

The Great Escape festival takes place this weekend in Brighton, featuring 500 bands & artists at 30 venues across the city.
Primary Talent International are well represented, with a great many acts performing each day.

Thursday 9th May:
...Just Mustard
...SUN SILVA
...Saint Agnes
...404
...altopalo
...Greentea Peng
...Zuzu
...Jockstrap
...These New South Whales
...Emily Burns
...Pearl Charles
...Marika Hackman
...Joy Crookes
...LEISURE
...Kawala
...MarthaGunn
...Connie Constance
...Fuzzy Sun
...Duendita

11 Mar, 2019

The Dot To Dot festival takes place at various venues in Manchester, Bristol & Nottingham from 24th-26th May. It features Primary Talent International artists:

...Swim Deep
...The Night Café
...404
...Crows
...Miss Grit
...Rachel Chinourri
...SUN SILVA
...Swimming Girls