The Knocks
Contact
The Knocks are a New York story through and through. They met as 19-year-old college students, late one night in a studio at the New School. Ben Ruttner, known as 'B-Roc,' DJed clubs as a PM day job, and James Patterson, known as 'JPatt,' played the organ at a church outside the city. Both in need of roommates, they moved into an apartment on Avenue C in The East Village that in the DIY style that would go on to define their work in the industry the two of them soon turned into a bootleg studio where rappers and bright-eyed vocalists came in to cut tracks. It was a tiny place, with walls as thin as the bugs were plenty.
Their neighbors started banging brooms floor to ceiling, cracking knuckles on the walls. When the music got loudest, B-Roc and JPatt would go into each other rooms and say, "I just got the knocks."
The newly christened duo soon started gaining attention online. Working out of their bedrooms, The Knocks remixed Jay-Z's entire 'American Gangster' album in two days, calling it 'American G-Funk'. They put it up in the early days of music virality, and got 60,000 downloads in a week.
With remixes for Katy Perry and Passion Pit soon following, The Knocks were declared one of the "20 hottest producers in music" by NME and quickly became synonymous with a certain warm, retro-future, disco-kissed touch. Their remixes filtered every artist's energy through a late night on the Lower East Side: whatever they made at the studio, they'd test out at the club, translating the heat of underground dance music to the mainstream. Their alchemy worked the other way around, too: future stars like Ellie Goulding and Icona Pop took note of The Knocks, asking them to produce for their own projects.
In 2008, JPatt and B-Roc took out a loan and opened the HeavyRoc studio at 55 Chrystie, in the same broken-down building where the Beastie Boys used to rehearse. From there, in a dance music ecosystem increasingly dominated by reticent bedroom producers or big-tent corporate names, The Knocks stayed on a certain downtown grind. They put our their first big hit in 2010 with the filter-house party anthem 'Dancing With the DJ.' The classic New York open-format DJ style suffused every record: this music could work a crowd from all angles, full of pre-dawn tenacity and the energy of a dance-floor crush. Their unerring instinct took The Knocks global: they toured the UK with Sleigh Bells and DJ Shadow, and started playing all around the world.
At the studio, The Knocks developed and managed artists on their own label at the same time that they pushed their musical projects forward. Opening for Ellie Goulding on her US debut tour in 2011 and playing the main stage at Ultra in 2012, B-Roc and JPatt were a bridge between the indie dance world and the mainstream market; they threw parties, booked their own talent, and opened up new territory for their artists that often led to a record deal. Bringing Mandy Lee, now of Misterwives, to their smash 2012 remix for M83's 'Midnight City' and St. Lucia's Jean-Philip Grobler to 2013's heater 'Modern Hearts', The Knocks built steady credibility as producers with an ear for up-and-coming talent and party auteurs to boot.
Their debut album '55' is a triumph, a resolutely DIY dance album that pulses with the heart of the city. It's a love letter to the old-school way of making music, and to that classic story of two kids who came to NYC to make it big. The album features a star-studded cast; a diverse list of musical styles and artistic approaches, from New York's hip hop legend Cam'ron to pop-sensation Carly Rae Jepsen.
Idolator has called it "pop perfection", Pop Crush adding that "they're [The Knocks] coming for an early best album of the year". SPIN Magazine gave '55' an 8 out 10 album review and declaring it one of their top 66 albums of 2016. The album twists and turns with unexpected guests and genre-bending flavor. Artists like GRAMMY winner Wycelf Jean, X Ambassadors, Fetty Wap, and Walk The Moon each provide an unparalleled gusto best described by VICE's NOISEY as "bombastic, funk-finagled, and fun".
On the touring front, The Knocks have proven to be a force to be reckoned with, selling out headlining show across North America and supporting the European leg of Justin Bieber's 'Purpose Tour'. The Knocks also cut their teeth performing huge festival dates including Bonnaroo (which made Billboard's 'Best of Bonnaroo 2016' list), Governors Ball (which made Rolling Stone's '15 Best Things We Saw' list and Fuse's 'Top 10 Best Performances of Governors Ball'), and Outside Lands. The Knocks have previously supported The 1975, Ellie Goulding, Bruno Mars, Sleigh Bells and DJ Shadow.
2017 has been equally eventful for the duo on the music front, releasing a critically acclaimed EP that featured MNEK and Sam Harris of X Ambassadors. Billboard exclaimed "The Knocks are pushing boundaries and catapulting us into the future." In addition, they released a collaboration with Mat Zo [song entitled 'Adrian'] that reached #6 and #7 on the Spotify US and Global Viral Charts and are featured on the new Sofi Tukker song 'Best Friends' that reached top 5 on the Spotify Viral charts and is currently featured on Apple's iPhone X global ad campaign. Furthermore, they are featured and produced Wyclef Jean's lead single off his 'Carnival III' LP. With an EP and LP on the way in 2018, sky is the limit.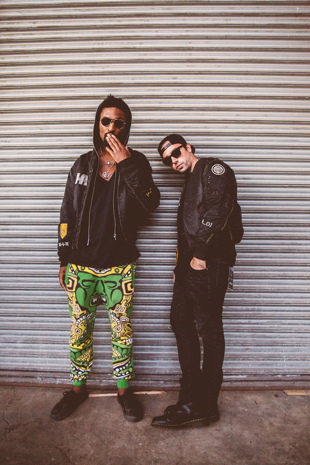 | | | | |
| --- | --- | --- | --- |
| Jan | Feb | Mar | Apr |
| May | Jun | Jul | Aug |
| Sep | Oct | Nov | Dec |