The Von Bondies
Contact
The Von Bondies rose to prominence as a key band in the Detroit garage-rock movement that spread its way across the globe in the early 2000s. With a spirit rooted in the energy of punk and the rawness of the blues, they became known for their uninhibited, energetic live shows and unique two-girl / two-boy lineup. During breaks from their initial tours of the US, the band recorded and released their debut record, 'Lack of Communication', and their international touring schedule intensified, due to a rapidly growing fanbase in the United Kingdom.
The band's early UK shows led to their being asked to record two Peel sessions at BBC Radio, along with dozens of festival slots - playing the Reading and Leeds Festival two separate years and making a Glastonbury appearance as well. At a show in the Netherlands, the band caught the attention of Sire Records' Seymour Stein (Ramones, Madonna, Talking Heads), who would then sign them to Sire / Warner Bros. shortly afterward.
With the release of this second record, 'Pawn Shoppe Heart', The Von Bondies solidified a worldwide following, making numerous television appearances, including two David Letterman performances in the US and spots on Later with Jools Holland and CD:UK in the United Kingdom. The album reached top-forty status on the UK charts as well as on Billboard's Heatseekers Chart in the US. The single 'C'mon C'mon' also charted worldwide and was used as the theme song to the popular US television show 'Rescue Me'. Live shows always being a focus of the band, they toured frequently, adding two tours of Australia and dates in Japan to their regular runs through the US, UK, and Europe.
Now, after being on hiatus for the past decade, The Von Bondies are celebrating the twenty-year anniversary of their formation with a reunion.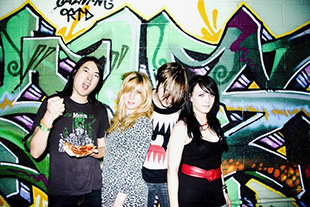 28 Jan, 2020

The Von Bondies will celebrate their 20th Anniversary by touring the UK in May.