Vistas
Contact
Formed in January of 2016, Vistas have burst onto Scotland's music scene with hooky choruses and radio ready tunes. Throughout the past year they have released the single, 'Sign Language' EP, 'Medicine' and the latest single 'Feel Alive'.
Vistas have featured as the cover band of Spotify's 'Hot New Bands' playlist and have also featured on 'New Music Friday' (UK & Brazil), and are currently sat on The Indie List, Hot New Bands, New Noise playlists's.
Their music has seen radio play on BBC Introducing Scotland and Amazing radio.
Spotify have tipped the band as one of the best new British bands of 2017

In the past year the band have played SOLD OUT launch nights at The Mash House (Edinburgh) and Electric Circus (Edinburgh).
The start of the 2017 will have seen the band support The View at the iconic Barrowlands in Glasgow, Clean Cut Kid (Glasgow) along with playing Wide Days festival and Stag & Dagger festival.
The new single 'STRONG SWIMMER' will be released 26th MAY 2017 along with the bands debut video.
Vistas are:
...Prentice Robertson
...Dylan Rush
...Jamie Law
...Graham McDonald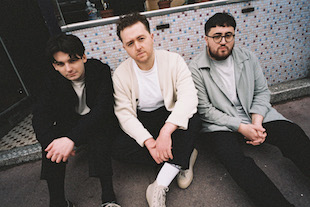 | | | | |
| --- | --- | --- | --- |
| 27 May 19 | | Crofters Rights | Bristol |
| 28 May 19 | | The Sunflower Lounge | Birmingham |
| 29 May 19 | | Oporto | Leeds |
| 30 May 19 | | Night People | Manchester |
| 31 May 19 | | St Luke's | Glasgow |
| 01 Jun 19 | | The Think Tank | Newcastle |
| 13 Jun 19 | | MacArts | Galashiels |
| 14 Jun 19 | | The Cellar | Aberdeen |
| 15 Jun 19 | | PJ Molloys | Dunfermline |
| 16 Jun 19 | | Sneaky Pete's | Edinburgh |
| 05 Jul 19 | | Electric Fields Festival | Dumfries |
| 27 Jul 19 | | Truck Festival | Oxon |
| 02 Aug 19 | | Belladrum Tartan Heart Festival | Inverness |
| 10 Oct 19 | | Whelans | Dublin, Ireland |
| 11 Oct 19 | | Duke of York | Belfast, N.ireland |
| 12 Oct 19 | | Twisterella Festival | Middlesborough |
| 16 Oct 19 | | Academy | Manchester |
| 17 Oct 19 | | New Adelphi Club | Hull |
| 18 Oct 19 | | The Leadmill | Sheffield |
| 20 Oct 19 | | SWN Festival | Cardiff |
| 21 Oct 19 | | The Bodega Social Club | Nottingham |
| 22 Oct 19 | | The Wardrobe | Leeds |
| 24 Oct 19 | | The Basement | York |
| 25 Oct 19 | | La Belle Angele | Edinburgh |
| 26 Oct 19 | | Sound Basement | Liverpool |
| 28 Oct 19 | | The Sugarmill | Stoke-On-Trent |
| 29 Oct 19 | | The Cookie | Leicester |
| 30 Oct 19 | | The Waterfront | Norwich |
| 31 Oct 19 | | Borderline | London |
| 02 Nov 19 | | Heartbreakers | Southampton |
| 03 Nov 19 | | Komedia | Brighton |
| 05 Nov 19 | | Esquires | Bedford |
| 06 Nov 19 | | The Parish | Huddersfield |
| 07 Nov 19 | | Clarks | Dundee |
| 09 Nov 19 | | The Bungalow | Paisley |