Belako
Contact
Belako are Josu Ximun Billelabeitia, Lore Nekane Billelabeitia, Lander Zalakain and Cristina Lizarraga. This band from Mungia has kicked ass in the last two years playing non-stop around Spain and Europe. Anything can happen on the stage... Power, electricity, punk attitude... Like the bands of the 80's.
They've played in the biggest festivals of Spain;
PRIMAVERA SOUND, BBK LIVE, FIB BENICASSIM, SOS 4.8, LOW FESTIVAL, DCODE, MADCOOL, WAM MURCIA, JAZZALDIA, KUTXA KULTUR FESTIBALA, BIME, SANTANDER MUSIC FESTIVAL...
In 2012 they won Radio3 and Gaztea awards. In 2015 they won Rolling Stone's and MIN Music Independent's "best new band" awards. In 2016 they won the RNE's (Spanish National Radio) 'Best Modern Music Band' award and in 2017 they came to win the Best Live Award in both MIN and The Iberian Music Awards. 2018 is also being a good year, they have won MIN's Best Band, Best Live and Best Video Clip (for 'Render Me Numb').
High intensity, hypnotic melodies, great riffs, amazing bass rhythms, powerful drums...Every show goes from the darkness to the light, the 80'́s through the 21st century, sweet voices to screams, relaxation to sweat... postpunk, electronic...
Their first full-length release in 2013, 'EURIE', was the catalyst of their success, and this success has continued with 2 EPs, released by their own label, Belako Rekords.
'AAAA!!!!' (June of 2014) is the wildest BELAKO. Home recorded, they wanted the sound of Nirvana, The Clash, The Cure, Pixies and Sonic Youth.
'BELE BELTZAK BAINO EZ' (June of 2014) has a modern sound, recorded in MusicBox Studios. In 2016, they released their second full-length album under their own label 'HAMEN'. In 2018 they released 'RENDER ME NUMB, TRIVIAL VIOLENCE'.
They have performed with this album in UK, PORTUGAL, GERMANY, MEXICO, RUSSIA, JAPAN, KOREA, ITALY, PHILIPPINNES, FRANCE... Festivals like REEPERBAHN, COMMUNITY, ROCK EN SEINE, NOS PRIMAVERA SOUND, VIVE LATINO, SWSX... Venues like National AUDITORY MEXICO, FINSBURY PARK... More than 100 gigs every year.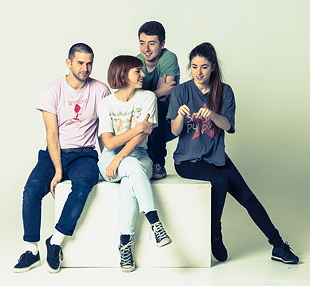 25 Aug, 2019

The third & final day of the Reading & Leeds Festivals, continues with these artists from the Primary Talent International roster, performing at both sites.

Reading Festival: Sunday
...Mayday Parade
...Sundara Karma
...CHILDCARE
...Everyone You Know
...nothing,nowhere.
...Anteros
...Æ MAK
...Vistas
...Big Heath

Leeds Festival: Sunday
...Counterfeit
...Bad Nerves
...Sports Team
...The Japanese House
...Sons of Raphael
...D-Block Europe
...Bexey
...Aitch
...Belako
...Alfie Templeman
...Steel Banglez

24 Aug, 2019

The second day of the Reading and Leeds festivals, will feature The 1975 headlining in Leeds, and many other Primary Talent International artists at both sites.

Reading Festival: Saturday
...Counterfeit
...Bad Nerves
...Sports Team
...The Japanese House
...Sons of Raphael
...D-Block Europe
...Bexey
...Aitch
...Belako
...Alfie Templeman

Leeds Festival: Saturday
...The 1975
...The Wombats
...You Me At Six
...Twin Atlantic
...Kawala
...Dave
...Fredo
...Circa Waves
...Pale Waves
...The Night Café
...BLOXX
...Bowling For Soup
...Puppy
...Patent Pending
...Ten Tonnes
...No Rome
...Zuzu
...DigDat
...Tiffany Calver
...Deno
...Just Banco
...Swimming Girls

26 Jun, 2019

Belako have shared details of their forthcoming tour dates in Europe & Mexico.