Br3nya
Contact
Br3nya becomes the hottest face of the UK music scene debuting her first single 'Good Food'.
London based-singer-songwriter, Br3nya, has released the much-anticipated music video for her first debut single 'Good Food'.
Produced by two of the UKs most talented producers, DJ P Montana and C Biggz. This first single is set to make waves in the UK music scene, out via GRM Daily and available to stream on all platforms.
Br3nya's initial interest in her lyrical ability has proven successful, having already built her own fan base at such a young age.
Growing up in West London as a Ghanaian female, she has noticed there is ample room in the scene for her incomparable music. By combining her influences, environment and heritage, she has been able to channel her style into her music. This has allowed her to create her own avenue through her lyrical ability and she is definitely not shy to ride a beat. 'Good Food's catchy tempo and one-liners will have you have feeling sometimes classy, sometimes ratchet!
Since release the song has been played on Radio 1, BBC 1xtra & Capital Xtra. Abdi TV has been supporting this song on his socials. The Fader, Red Bull & Link TV have also been supporting the track with a written up piece and on their Instagram. 'Good Food' is also featured in the UK Rap Playlist on Spotify and is also on the Afro Swing Playlist on Apple Music.
Br3nya has been co signed by some the UK's greatest acts including Stormzy, Maya Jama, Donaeo + many more.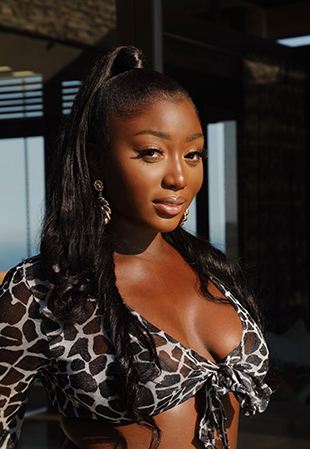 01 Apr, 2019

Br3nya shares her new video for 'Double Dutch'.