Br3nya
Contact
Br3nya is ready to take the UK music scene by its reigns.
With her debut single 'Good Food' creating huge traction back in 2018, she's also dominated 2019 with the release of two more singles, a set at Stormzy's Merky Festival, and a sold-out headline show. With her eyes surely fixated on success, 2020 is looking to be Br3nya's best year yet.
"It sounds very typical and cliché but I do want to take over," she says. "I want my music to really travel and I want more people to sing my songs. The support has been great, but now it's all about exposure."
Ensuring that her music always feels natural and organic, Br3nya's creative process is less strategic than you would think. "When I'm in the studio, I just go off whatever mood I'm in. I don't really think about it too much." This, along with the help and guidance from producers P Montana and C Biggz has allowed her to release an array of unique music.
Although the influence of Afro-swing is present in some of her music, she is determined to prove that she is not a one-trick pony. "If I like a beat, I'll just start writing to it," she explains. "My latest single 'Sis' doesn't sound like typical Afro-swing. Everything I've done is quite different and if my song happens to chart, I want it to be with something that's most authentic to me."
Authenticity seems to be a reoccurring theme with Br3nya - it's her favourite aspect about being an artist, she admits. "I feel as an artist, I can say whatever I want that the average person wouldn't. I'm more outspoken, outlandish, and my true self when making music." With a highly anticipated EP on the way, Br3nya gives nothing away about it.
"I've been recording all summer, so I could really just drop it whenever. No warning whatsoever."
Eyeing up world domination, there's no doubt that Br3nya is bringing some much needed assertiveness and confidence within the UK music scene.
Br3nya has also been dubbed 'Hot For 2020' by BBC 1xtra.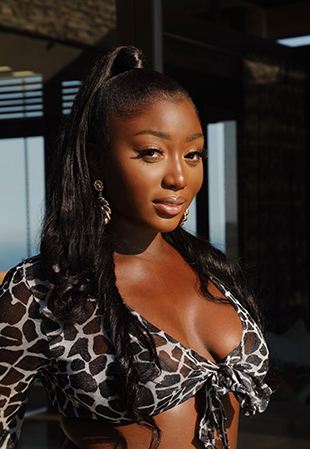 01 Apr, 2019

Br3nya shares her new video for 'Double Dutch'.