Can't Swim
Contact
Based out of Keansburg New Jersey, Can't Swim was founded by singer Chris Loporto (Krier) in the spring of 2015. After spending most of his life playing drums in various bands, Krier decided to step in to song writing. The songs were contagious from the start and grabbed the attention of his good friends Chez, Danny and Greg.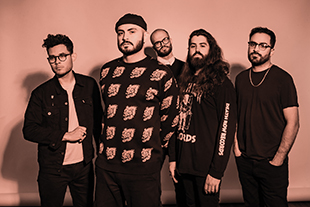 11 Dec, 2018

Can't Swim have announced details of their UK & European Tour for April / May 2019.

15 Sep, 2016

Can't Swim perform 'Right Choice' live at the Bad Racket recording studio.
| | | | |
| --- | --- | --- | --- |
| 27 Apr 19 | | Groezrock | Meerhout, BELGIUM |
| 28 Apr 19 | | Headcrash | Hamburg, GERMANY |
| 29 Apr 19 | | Blue Shell | Koln, GERMANY |
| 30 Apr 19 | | Keller Klub | Stuttgart Mitte, GERMANY |
| 02 May 19 | | The Key Club | Leeds, UK |
| 03 May 19 | | The Garage (Attic Bar) | Glasgow, UK |
| 04 May 19 | | The Think Tank | Newcastle, UK |
| 05 May 19 | | Handmade Festival | Leicester, UK |
| 06 May 19 | | Star & Garter | Manchester, UK |
| 07 May 19 | | Borderline | London, UK |
| 08 May 19 | | The Aylum | Birmingham, UK |
| 09 May 19 | | The Bodega Social Club | Nottingham, UK |
| 10 May 19 | | Thekla | Bristol, UK |