Gia Ford
Contact
Assuming the moniker Gia Ford, 23 year-old Molly McCormick reaches for a name that is punchy, reminiscent of 80s American pop culture. This new identity allows her to reach into fashion as a heightened version of herself, and leaks into her music, allowing her to create a world within a world.
Discovered on Instagram and subsequently snapped up by Dirty Hit (The 1975, Wolf Alice, Rina Sawayama) on the strength of a 60-second, vocal-only recording, Ford spent three years developing her sound. Her first EP, Poster Boy, was a reflection of that period of evolution; encapsulated in a name derived from that fact that as a child she wanted to be a boy, but simultaneously celebrating the fact that there are some iconic pin-ups who carry that same energy.
While Poster Boy was a vehicle prove to herself, and her audience, that she could write a pop hit, second EP Murder In The Dark is a step into a different world. The creak of a door followed by – is it a scream!? – and the 4/4 drum beat of opener "Waterslide" is reminiscent of horror-pop classic "Thriller", before the introduction of a soft, squelchy bass and Ford's soulful intonation asking the listener to close their eyes while she takes control of them. The EP is a dark, twisted exploration into the human condition that picks the listener up, spins them around, chews them up, and spits them out on the other side.
Despite initially setting out to write a slightly comical lesbian vampire themed EP, Gia Ford mastered something far more nuanced and dark within nine tracks, three of which she describes as interludes. Growing up in Sheffield, her musical education included everything ranging from Bjork and Queens of The Stone Age, to Electric Light Orchestra and Duran Duran. Surrounded by music, particularly music that embraced both darkness and theatrics, she realised that it was something she could tap into. At the age of 14 she picked up a guitar for the first time – and wrote a song about a suicide forest in Japan.
Partnering with Spector frontman and producer Fred Macpherson once again for Murder In The Dark, collaboration is core to Gia's alternate world. Writing sessions with Dev Hynes have buoyed Gia's already soulful inclinations, while frequent visual collabs with with Melony Lemon see the visuals echoing the colour-rich but atmospherically dark themes of cultish film noir. "Melony translates my vision and exaggerates it," says Ford. "I have always had a vision of my artistic self, and visually I can suggest things but Melony just knows how to show it."
Working again with Macpherson has meant that she has tightened her storytelling skills, and she has also collaborated with Bathwater on the interlude of the same name, the producer himself part of London based hip-hop outfit and fellow Dirty Hit collective 404 Guild. Although she is open to experimentation, it's a tight-knit crew, and Ford's involvement is heavy. "I oversee every element. Fred taught me to be bold with my sound choices, but I still co-write every song".
While she continues to expand her world, Gia Ford brings in elements of surprise. From the chopped n'screwed "Bathwater" – a sample from "Waterslide" – which acts as the dizzy, drunken climax of the EP, linking the elements of suspense in the tracks before it, with the then seductive and more mediative moments of "Dizziness". "Bad Love Hook" re-introduces us to the glacial paced sounds of the noir-narrative. The last track, the titular "Murder In The Dark", acts as an incongruous pop track, a surprise as the credits roll. "I put the story together as I wrote it, it wasn't a conscious narrative," Ford explains. "When Bathwater did a chopped n'screwed mix of "Waterslide", it became the climax of the EP and it inspired the rest of it."
With touches of the early films of Tarantino, camp-y noir horror and Black Mirror, Murder In The Dark shows the pinwheel of darker human emotions, but retains a fun element, both visually and sonically. It's a pointer toward a storyteller's future for Gia Ford's ever-evolving creative persona.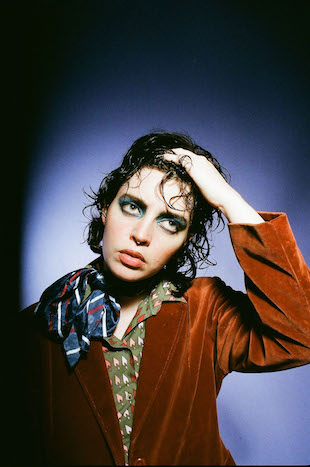 | | | | |
| --- | --- | --- | --- |
| Jan | Feb | Mar | Apr |
| May | Jun | Jul | Aug |
| Sep | Oct | Nov | Dec |