LOLAWOLF
Contact
LOLAWOLF is a trio from New York fronted by Zoë Kravitz. The band includes Jimmy Giannopoulos and James Levy from Reputante.
The band's debut LP 'Calm Down' is out worldwide (ex-UK) on Innit Recordings via KLS and via Create/Control in AU/NZ. The record will be released November 17th in the UK.
Produced by Jimmy Giannopoulos and recorded earlier this year in the Bahamas and LA, the album finds the band adding hip-hop and tribal elements to their sound.
"LOLAWOLF just made the most unpredictable R&B album of the year... the warped-pop album is full of sudden swerves and turns; experimental late-night songs that riff on the music they grew up hearing and loving on the radio... [e]ven though Zoë doesn't have her sights set on stardom, it's just a matter of time until human reappropriators Rihanna and Katy Perry jack her new aesthetic"
NOISEY
"defies genre expectations in the best way possible... inventive and vibrant."
Pigeons & Planes
"Full of smoky vibes and lyrical asides, it digs deep into the 3am feelings and a broader pallet of sounds."
FADER
'Calm Down' is the follow-up to the band's critically acclaimed five-song debut EP released earlier in 2014, which Pitchfork described as "surging electronic pop." Neon Gold called lead track 'Drive (Los Angeles)' "a perfect piece of distinctive, melody-driven, back-to-the-future synth candy."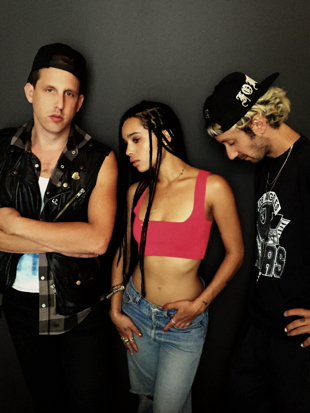 14 Jul, 2015

LOLAWOLF have released a new mixtape on Innit Recordings, which includes this track 'Every Fuckin' Day'.

12 May, 2015

LOLAWOLF unveil a new video for their track 'Bitch', which features a cameo from Miley Cyrus.

17 Nov, 2014

'Calm Down' is the title track from the new album by LOLAWOLF, released on Innit Recordings.