Pale Waves
Contact
Pale Waves have no right to exist, let alone crash through 2018's halfway mark as Britain's most promising new band. Everybody knows guitar music is dead, that lyrics are so unimportant that they're bordering on being an inconvenience, and that the album is a defunct format. Everyone knows blending in is the new standing out, that aggressively cropped photos are better than the full picture, and that the illusion of transparency is so much more important than opting for honesty. So Pale Waves really shouldn't exist, but they do, and it feels like something huge is about to happen.
This hasn't exactly happened on the quiet. From uploading their first songs in 2015 to the sold-out live dates, rampant critical acclaim and rapidly expanding fan community of 2018, Heather Baron-Gracie (vocals), Ciara Doran (drums), Hugo Silvani (guitar) and Charlie Wood (bass) have already scorched an impressive path through pop with singles like 'My Obsession' and 'There's A Honey'.
And that album? Well think of it as being a bit like a playlist, but controversially all the songs actually make sense together. It's shaping up to be an uncommonly special debut, with new tracks such as 'Eighteen' and 'One More Time' capturing the turbulence and brutality of love in remarkable detail. The album's title, 'My Mind Makes Noises', is already tattooed across Ciara from the band's right arm, but before it was an album title and before it was ink, it was a line in the band's song 'Noises'. And long before that, and right now, and for who knows how long in the future, it's the phrase Heather uses to describe her state of mind. "It's a title that totally reflects how I feel," she acknowledges - and get ready to find out plenty about how Heather feels.
It's not always pretty. Mind you, the truth rarely is.
At the heart of Pale Waves is Ciara and Heather's extraordinary songwriting partnership, and at the heart of that partnership is an extraordinary friendship. It began on November 14th, the 2014, on Manchester's Chester Street - halfway between the two first year uni students' respective halls of residence. "My course was totally dominated by guys," Heather remembers, "and there were only three girls in my class. The whole vibe was very, 'oh, you're a girl, pick up an acoustic guitar and sing us a nice song'. I just wanted to make friends with at least one girl." During October she was scrolling through the students who'd joined the uni's Facebook group and eventually found Ciara. They chatted online for a month, then arranged to meet. "We connected instantly," Ciara remembers. "The bond was there straight away." Their friendship was cemented when they obsessed over bands like The Cure, Lucy Rose and whatever else Ciara had cued up on her iTunes: pop, 80s and 90s artists. They'd stay up until seven in the morning, just listening to music.
When the pair played each other the songs they'd been working on they decided to pool talents, and Pale Waves was born. As Ciara recalls: "We told each other: we're going to really do this." And the more they worked together, the more their idiosyncratic, totally fresh pop sound started to emerge. "We never consciously decided to stand out," is how Heather recalls their sonic development. "We just did what we did and it started to work." They didn't look for a space to slot into: they created their own. And over the period of two years, Pale Waves gradually took shape. "It probably seems like a wasted youth," Ciara admits, "but I think if we hadn't put those two years in, Pale Waves would never have happened."
Heather and Ciara struck gold when they welcomed kindred spirits Hugo and Charlie to the Pale Waves lineup, but finding them wasn't easy. "We'd met plenty of potential band members," Heather says, "but they weren't committed enough. Ciara and I devote our lives to Pale Waves." Hugo messaged the duo after they'd uploaded 'The Tide' and 'Heavenly',("I had a really good feeling about him," Heather says, "he took a total leap of faith"), with friend-of-friends Charlie, whom Ciara knew from his time in bands back in Stoke, finally completing the Pale Waves lineup. These days it's hard to imagine the band were ever anything other than a four-piece. "I don't think people understand how closely knit we are," Ciara adds. "We love each other a lot - it feels weird when we're not with each other."
The completion of Pale Waves' lineup wasn't the only fortuitous upshot of 'The Tide' and 'Heavenly' going online: another chain of events was that the band were spotted by concert promoters SJM, who arranged a slot on an Xfm-sponsored showcase night, which led to Xfm's John Kennedy tipping the band to the station's head of music, who put them in touch with Dirty Hit, the team behind The 1975, Wolf Alice and The Japanese House. Small operation, big ideas: perfect for Pale Waves, and in ways the band didn't even expect. "The first time I felt respected as a musician or producer or as a woman in the music industry was when I started this band," Ciara recalls. "The second was when I came into Dirty Hit for the first time." And at that point nobody realised quite how closely Pale Waves would end up working with Dirty Hit's biggest band, The 1975, or its frontman Matty Healy, who's co-produced some of the band's music and even directed the video for 'Television Romance'.
One does wonder if either band is totally joking, but their songs are far from interchangeable: Heather's engrossingly straightforward lyrics in future anthems like 'She' and 'One More Time' ensure that these could only ever be Pale Waves songs. And as Pale Waves have grown, so Heather's confidence as a lyricist has skyrocketed. "As more people were listening, I started to feel more comfortable revealing more of myself," she explains. "Because Ciara knows exactly what all my songs are about, she also knows when I'm hiding things. She'd say to me: 'Just be more honest - I know what you're trying to say, but you're hiding too much.'" (For her part, Ciara laughs that their early demos were "so covered in reverb that you couldn't even tell what she was saying anyway.")
In any case the unstinging honesty of 'My Mind Makes Noises' is evidence of a lyricist unafraid to put everything on display, no matter how raw. "I eventually accepted that it's alright to put everything into a song the whole world will hear if it wants to," is how Heather views it. "People generally don't like to reveal themselves but some songs are so deep and traumatic that it can be terrifying." No wonder Pale Waves' songs strike such a chord with those of us caught in the existential chasm between sharing absolutely everything about our breakfasts and precisely nothing about the reality of our lives, and the band have found that fans have responded by sharing their own truths, too, on everything from sexuality to issues at home.
The scale of Pale Waves' own ambition is unmistakable: it's there in every song, but it's also there in the attention to detail in their videos, visuals and live shows. "When I finish a song all I can picture is the music video," Heather adds. "We want to create a whole world and take it as far as we can. There shouldn't be boundaries. You see a lot of people in bands acting like they don't care about every aspect of their work, and it baffles me. If you don't care, why should anyone else? I want to see passion! I want to see ambition, love, drive! Otherwise what are you doing it for?" Ciara is, as ever, totally frank: "Look, you either do it or you don't. If you're not emotionally connected to your art I don't think you're in the right job."
This is not a band who consider their work finished when they leave the recording studio, and they embellish their own vision with reference points that range from Black Mirror episode 'San Junipero' - which found a jarringly beautiful new way of telling a love story, just as Heather's own lyrics often do. "she stood out, she was different, she didn't give a fuck: that's how I felt as well."
It's strange to think that in twelve years there could just as easily be young women forming bands and having conversations about how they, as kids, found inspiration in Pale Waves. "Make it twenty," Ciara laughs, but behind the laugh - and in every one of her band's songs - is the suggestion that Pale Waves are very much in this for the long haul. "We're not going to go 'we're great, that's it, job done'," Heather adds. "We're going to keep getting better with every song we make."
July 2018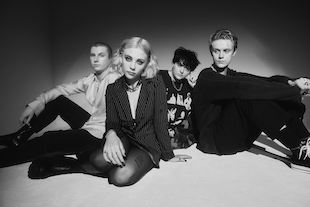 | | | | |
| --- | --- | --- | --- |
| Jan | Feb | Mar | Apr |
| May | Jun | Jul | Aug |
| Sep | Oct | Nov | Dec |