Pale Waves
Contact
Pale Waves' third studio album is a bold statement of reclamation – from the lyrics to the title itself. Unwanted reaches out into the community of misfits and LGBTQI fans around the band, tapping into darker emotions than ever before while striking a fresh tone of defiance. Since their 2018 debut My Mind Makes Noises, the band has grown to embrace their queerness, with lead singer Heather Baron-Gracie writing more directly about her relationships with women. Meanwhile, drummer Ciára Doran has been posting updates about their transition over the last year, from starting testosterone to recovering from top surgery. These experiences have shaped Pale Waves' music over the last few years, but they jump to the fore on Unwanted.
"It was really the only thing this album could be called," says Baron-Gracie, now 27. "It's bold and unapologetic, and that's what the Pale Waves community is about. We don't need to fit a perfect mould, we don't need to apologise for being ourselves, and we won't change for anyone. That acceptance is what connects us."
Pale Waves' previous album, 2021's Who Am I?, saw Baron-Gracie becoming more personal in her songwriting, opening up about her journey of self-discovery and falling in love. Unwanted takes that a step further, exploring loss, vanity, anger, jealousy and hopelessness that mark new territory for Pale Waves. "The album dives into feelings that I felt not only needed to be written but I felt like our fans want to hear," Baron-Gracie explains. "Almost everyone has felt like they don't belong, or has been made to feel like they're not good enough. That's a consistent theme that I'm seeing from our fans – that their family doesn't approve of them, or their friends have disowned them because they've come out. So Unwanted had to be honest, provocative and loud. Not only thematically, but in the music as well."
Unwanted is 13 tracks of classic pop punk with an edge. Think Sum-41 by way of Veruca Salt; all the crunchy guitars and rhythmic drive of a 2000s pop punk classic with the rage of a 90s rock band. At the time of writing, Baron-Gracie was listening to a lot of Garbage, Paramore, Metric, Sky Ferreira and Blondie – artists that fed into her desire to pull Pale Waves out of the indie and synth-pop world they started out in, and towards a harder, more alternative sound. "I didn't want any of those jangly, picky, high up on the fretboard guitars," says Baron-Gracie. "I wanted heavy distortion and chaos and power."
Recorded in Los Angeles with producer Zakk Cervini, whose credits read like a roll call of alt royalty – from Blink-182 and Modern Baseball, to Halsey and Machine Gun Kelly – Baron-Gracie describes the partnership as "a match made in heaven". When Baron-Gracie and Doran first met, they bonded over their shared love of bands like Sum-41 and Neck Deep, so with Cervini in the mix it became "pop punk central".
"I just loved how he worked," says Baron-Gracie, who first met Cervini while recording vocals for All Time Low's "PMA" – a collaborative 2021 single that searches for hope amid lockdown loneliness. "I'm quite a perfectionist with certain things, but Zakk was on my level. He worked so fast and instantly made everything sound exactly how I wanted it to sound. From that day, I knew that I wanted him to record the album."
While Baron-Gracie had a few tracks sketched out, most of the album was written with Cervini at the Madden brothers' studio in Burbank. They kept a small, tight-knit team – just Cervini, Baron-Gracie and Doran alongside bassist Charlie Wood and lead guitarist Hugo Silvani. "It was easy to work with Zakk because he'll catch all the ideas and make it into something as we're going along," Doran reflects. "The fact that he can make a track sound release-ready in one day really makes you believe in it more."
"This was the first time I actually had fun recording," adds Baron-Gracie. "We'd get there in the morning and write a song and the first vocal take that I'd do would be the one we use. That was a first for us, and it's ideally the kind of process I want to do in the future. For me, it's the excitement of, 'oh my god, we've created something that wouldn't exist if we weren't in this room'. To put your heart into it and feel the energy of the song come into life for the first time – it's really hard to recreate, in my experience. I always gravitate back to the first take."
The effortless partnership with Zakk, coupled with the urgency of not having toured for so long, results in an album so fully loaded with bangers it feels like an old Warped Tour compilation. From bratty break-up opener "Lies" through to acoustic-driven closer "So Sick (Of Missing You)", the pace doesn't let up. Tracks like "Unwanted", "Only Problem" and "You're So Vain" are full of chunky power chords and undeniable pop punk hooks, while "Jealousy" is led by a swaggering rock riff from The Pretty Reckless playbook. "Alone" goes in a lighter direction, with gentle melodies and sunny guitar lines glistening like haydey Busted or McFly. The only breather is "Numb", a stripped-back acoustic song about not being able to feel anything at moments where you should be content. "I wanted it to be me and my electric guitar just singing my heart out," says Baron-Gracie. "There always has to be one moment of sorrow on a Pale Waves album – I didn't want to deprive everyone of that song that they listen to at 3AM to cry their eyes out to!"
Elsewhere, "The Hard Way" is inspired by a girl Baron-Gracie went to high school with who was being bullied. "I got on the bus with her every single morning and I would see her sitting in her same spot. She sat downstairs, and I would go upstairs," Baron-Gracie remembers. "She took her own life, unfortunately, and that breaks my heart. The song is about my regret for not helping her, or standing up for her, that I feel now as an adult. As a kid you're so shy and afraid, but I hope it'll influence people to stand up for those who need help, and help people understand that their words and actions can be really damaging. You don't know how cruel you can be sometimes, especially at that age."
After two years of being cooped up, the band's focus for Unwanted was on writing songs that would translate to live performance. "We made it apparent that we want to write these brilliant, energetic, dynamic songs that everyone's gonna fall in love with live, and we're just gonna have a really fucking good time playing," says Baron-Gracie. "I feel like the pandemic has really influenced and changed the way we make art now. People just want to get up and dance around and have energy, so I didn't want [to make] one of those albums where it's like two songs that are bangers and the rest you just skip."
Unwanted is an album that knows exactly what it is, goes all in, and does it well. The band found themselves in a place of greater confidence and happiness, and that comes through in the sound – whether it's Doran pushing their ability to keep up the drive behind such robust pop-punk anthems, or Baron-Gracie embracing the darker feelings and frustrations she's only recently been able to express. "Before, I didn't really feel ready as a person to be like, 'yeah, I can be an angry woman and I'm proud of that'," she explains. By contrast, Unwanted feels like the purgative scream at the end of a years-long inhalation.
"Unwanted is in your face, and that's exactly what I wanted," Baron-Gracie says resolutely. "I want Pale Waves to keep growing in this direction. Bigger, bolder, and more unapologetic."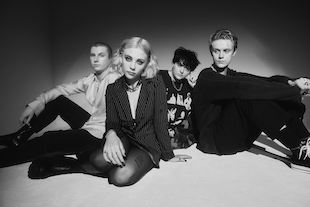 | | | | |
| --- | --- | --- | --- |
| Jan | Feb | Mar | Apr |
| May | Jun | Jul | Aug |
| Sep | Oct | Nov | Dec |