STORME
Contact
STORME are all about silver linings: the defiant little lockets of light that glimmer in even the blackest clouds. "I always to try to find hope, a reason to just hang on in there," says one half of the fast-rising electronic pop duo, vocalist Amanda Liedberg.
Championed by The Line Of Best Fit, Complex, Atwood and EQ, BBC Introducing, P3 (Sweden) and picking up Spotify's influential New Music Friday playlists both in the UK and across The Nordics, the pair's own road to this point hasn't been dark, but it has been winding.
Liedberg grew up in Sweden, spending a lot of time in Tegane, west of Stockholm, in a forest, by a lake. Mazza meanwhile grew up in Italy, in a music-obsessed family similarly surrounded by nature (his home was located in front of a vineyard in the country). It wasn't till they both moved to London to study that their paths crossed, and the duo began to collaborate. "London really inspired the electronic side of our tastes and our sound," says Mazza, whose love for electronic experimenters Four Tet and Jon Hopkins blossomed amid the hustle and bustle of the capital.
He began to toy with Ableton Live and vintage 1980s synths found in the west London studio he uses, and before too long was lending ethereal soundscapes and skeletal beats to the emotional piano-and-vocal sketches Liedberg was creating.
"I always start at the piano, with the basics," says Liedberg of her minimalist approach to crafting tracks, influenced by great pop hook writers like Sia, Max Martin and Kate Bush, as well as Bon Iver. "Lots of things are based on my life experience. Always when I write, I feel like it needs to really tell a story that comes from my heart." Next, Mazza - a producer who's "like a scientist and can spend hours tweaking synth sounds to perfection" according to Liedberg - adds what he calls "abstract, ethereal atmospheres," and a STORME song is born. "It's a formula we're always working on," smiles Mazza.
That musical chemistry caught the attention of the television world, with their release of 'Startlight', a glacier-sized slice of synths, drums and soaring vocals, placed prominently in the closing sequence of US drama, 'The Bold Type'. In the UK too, their talents have not gone unnoticed, with Amanda's haunting vocals punctuating the soundtrack of ITV hit drama, 'The Bay'. "We dream big!" laughs Liedberg. The sky's the limit, so that's where STORME are heading. Where else are they going to find those silver linings?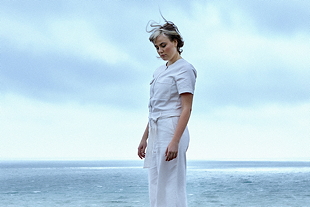 20 Jun, 2019

STORME releases her new single 'Ticket To Heaven'.

14 Aug, 2018

STORME present their new single 'Starlight'.