The Wha
Contact
Exciting new Kilkenny band The Wha are today delighted to announce their incendiary debut single 'Innocents' - out via Chess Club.
Currently home to the likes of Alfie Templeman, Bloxx and Phoebe Green, with previous discoveries including Wolf Alice, Jungle, Billie Marten and Sundara Karma, Chess Club has proven a fertile breeding ground for exciting new emerging talent - and The Wha are no exception. All aged just 18-years-old The Wha are dual vocalists and guitarists Finn Cusack and Sam Cullen, joined by Marek Lech (bass) and Abe G. Harris (drums).
Childhood friends Finn and Sam met in primary school, eventually forging a songwriting partnership aged just 15 years-old that would go on to form the nucleus of The Wha. Influenced by the evergreen greats - The Beatles, Brian Wilson, Bob Dylan - and contemporary auteurs like Julian Casablancas, Alex Turner and Father John Misty, as well as playwright Sarah Kanev, satirist Flann O'Brien and novelist Jack Kerouac; The Wha find humour and understanding everywhere - piling it high alongside buoyant riffs, tempestuous rhythms, and Finn and Sam's wry lyricism.
The Wha's attachment to their hometown remains strong. "Growing up in Kilkenny has its ups and downs," the band begins, "It's a small city, you can't really run away from anything. I think lots of young people here get to the point where they want to leave, whether it's for two years or forever. It is a fun town to grow up in. Some nice spots, some nice pubs. It's easy to waste time here." However, with little to no interest in school - other than the opportunity to hang out with one another - the four friends left immediately after finishing their exams this summer to focus on writing, recording and honing The Wha's energetic, raw, and playfully chaotic sound. The first fruits of those labours is 'Innocents'. A paean to growing up, the Catholic Church's well-documented scandals and addiction, 'Innocents' is a perfect distillation of The Wha's mantra: "fucking great songs played with fucking great energy."
'Innocents' will be paired with another new track '40 Odd Years' on a limited 7 vinyl release via Chess Club.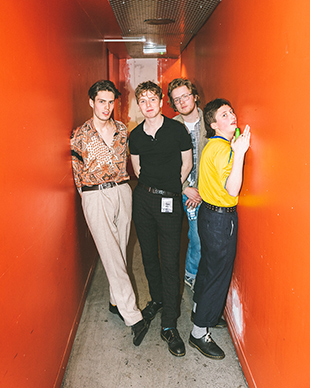 | | | | |
| --- | --- | --- | --- |
| Jan | Feb | Mar | Apr |
| May | Jun | Jul | Aug |
| Sep | Oct | Nov | Dec |