William Doyle
Contact
When William Doyle first performed live as East India Youth in November 2012 to a dozen people in a tiny Dalston basement venue, it was remarkable that he made it through the entire 25 minute gig without incident. He was using a knackered Macbook with a malfunctioning USB port, an antiquated mixer and a Casio MT45 keyboard bought off eBay for 15; and all of it was skidding around a plastic trestle table which constantly threatened to collapse, as it was buckling at the knees like Bambi on ice. During his second gig (in another basement in Hackney but this time to 40 people) he came up with a smart way of keeping everything exactly where he wanted it: by securing it all with cartons of apple juice borrowed from the bar and gaffa taped in place.
Over the next two years his achievements seemed as effortlessly gained as they were well-deserved. He released the 'Hostel' EP via the Quietus Phonographic Corporation in March 2013 and then his critically acclaimed debut album 'TOTAL STRIFE FOREVER' on Stolen Recordings in January 2014, which would go on to be nominated for the Mercury Prize. He went on tour with Factory Floor, supported These New Puritans and by the Summer of 2014 became a big festival draw in his own right. And while he might have upgraded his equipment and invested in a sturdy new table that allowed him to leave six cartons of apple juice and a roll of gaffa tape off his rider, essentially his live set-up was still the same - one electronic musician behind a table full of gadgets, occasionally clutching a bass guitar.
But in November 2014, almost two years to the night after his first ever gig, he played his biggest headline show to date - a sold out night in Heaven, the legendary London nightclub. After playing all of 'TOTAL STRIFE FOREVER' - it was time for an EIY first. He stepped out from behind his table into the spotlights and sang 'CAROUSEL' - the heart-breaking new electronic ballad which forms the centrepiece of his astounding second album, 'CULTURE OF VOLUME' released by XL. Essentially he walked on stage that night as an electronic musician and walked off it as a pop star. It was time for East India Youth as a project to step out of the shadows and into the light; it was time to leave the hinterland and claim the centre stage space as his own.
Speaking now, the 24 year old explains: "It was performing live that made me realise that I wanted to be more of a front person. It was quite a big gesture, because I'd been stood behind the table for two years - striking quite an electronic musician stance. This new persona requires me to be a bit more flamboyant and a bit more energetic. I was definitely letting people know that night that this was the first bit of the next step for East India Youth and this was how it was going to be from then on. 'Big "pop stars" get to sing over backing tracks' I thought, 'so why can't I do it as well?!'"
Initially supposed to be a difficult, underground album when it was first conceived in 2012, 'CULTURE OF VOLUME' rapidly mutated into a very different beast indeed but it wasn't a path that Doyle was initially happy with: "I didn't feel comfortable for a long time with the idea of making a pop album. But I ended up realising that was where I wanted this album to go and that's how I see myself now. And if I don't do it now, I'll never do it ever again. All my pop star ambitions exist right now in this space."
Named after a fragment of verse from the poem 'Monument' written by Brian Eno collaborator Rick Holland, 'CULTURE OF VOLUME' is a dizzying achievement, especially given that it was -- much like his debut -- mainly recorded on his own, in his bedroom at home in London. He explains: "I always wanted to make quite sophisticated music using very unsophisticated means." (It should be said however, that he got by with a little help from his friends. Some of the tracks feature string parts laid down by Hannah Peel; legendary producer for the likes of British Sea Power and These New Puritans, Graham Sutton, is credited with mixing the album and visual artist Dan Tombs created the artwork inspired by Andy Warhol's experiments with computer technology.)
The album opens with 'THE JUDDERING' - an austere slice of electronica that nods to both the David Bowie track 'Station To Station' and Cluster's Zuckerzeit', while remaining purely its own thing. But if this creates any expectations in the listener then these are atomised by 'END RESULT', a dark but beautiful pop gem, which touches on the unpredictability of the creative process and the transience of life.
After such a perversely down opening, Doyle unseats our expectations again with 'BEAMING WHITE', a glistening Pet Shop Boys referencing synth disco monster and then 'TURN AWAY', an epic, widescreen trance-inflected synth pop number. 'HEARTS THAT NEVER' pulls off an amazing trick: recreating the breathless excitement of hearing loud minimalist dance music in a club but in a pop music format. The BPMs remain high for 'ENTIRETY', a distorted and banging techno track which builds to an almost unbearable intensity. But this jagged peak has been elevating the listener just in order to drop them headfirst into undoubted album centrepiece, the baleful and resigned thing of beauty that is 'CAROUSEL'.
After being put through their emotional paces, the listener is suddenly granted sweet release with the languid Balearic pop of 'DON'T LOOK BACKWARDS'. The penultimate track, 'MANNER OF WORDS' -- a crystal edifice of chiming synth pop balladry -- is a thing of grandeur, while the final track, 'MONTAGE RESOLUTION' almost brings us back full circle with the kind of austere electronic instrumental that wouldn't be out of place on a classic Brian Eno or Yellow Magic Orchestra album.
And if it sounds like none of the above should work -- Pet Shop Boys style pop bangers next to industrial techno, next to sci-fi Scott Walker style ballads next to ambient explorations, next to Krautrock style synthesizer laments -- then that, according to Doyle, is the point: "Part of the thing with this album and surrounding elements such as artwork has been trying to combine things that wouldn't usually go together. The whole vibe of the album is certainly trying to force errors by making unlikely connections and seeing what happens."
As the man himself sings at the opening of what will be remembered as one of the best electronic pop albums of the decade: "The end result is not what was in mind."
John Doran, London, January 2015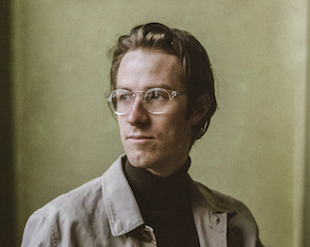 | | | | |
| --- | --- | --- | --- |
| 18 Feb 20 | | The Hug & Pint | Glasgow |
| 19 Feb 20 | | Headrow House | Leeds |
| 20 Feb 20 | | YES | Manchester |
| 23 Feb 20 | | The Hope & Ruin | Brighton |
| 25 Feb 20 | | The Crofters Rights | Bristol |
| 26 Feb 20 | | Colours | London |