Crush Club
Contact
When asked to explain the inspiration behind the five tracks on 'Alive', their debut EP, the duo behind Crush Club - vocalist TC Milan and producer, multi-instrumentalist Le Chev - both break into smiles. "So much of everything with this project and these songs has been about doing what feels good, what feels right," says Chev. "It's about making something that feels authentic and honest and truly good. The music should make you feel that way too." It helps that Milan and Chev have been friends and musical partners for years. Having worked alongside one another as members of celebrated pop outfit Avan Lava, and amidst a kaleidoscopic array of individual collaborations (Fischerspooner, Classixx, X Ambassadors), the two had developed a kind of shared language when it came to the sounds and ideas that ultimately pushed both of their buttons. While vacationing together in Ibiza one summer, the two found themselves swimming in a new sonic direction. "Rather than try and make these ideas fit into what we were doing before, we thought, 'Shit, let's start a new band'," explains Milan. Rather than second-guess themselves, the two decided to dive headfirst into making whatever music felt the best in the moment. "Everything has a cycle, whether it's disco or pop or whatever - so just make the thing that you like," says Milan. "There's a time for it and it's right now."
After garnering attention with their debut single 'Get Me Off' in the fall of 2016, Crush Club's developing aesthetic slowly started to come into focus. "I was DJing a bunch at the time and doing edits of old funk disco tracks," says Le Chev. "I found that as a DJ in New York, there's a sweet spot that's not too fast - almost hip hop tempo - that doesn't ever quite get to disco or house music speeds. It's this under 110 bpm funk edit sweet spot that is like, 'Fuck, this is so good. Yes, let's make tracks like this.'" Paired with Milan's gospel-inflected vocals, the duo's new sound emerged fully-realized with the release of single 'We Dance' in 2017. That particular track was conceived in the dance music mecca of Ibiza, where they would later perform the song live with Purple Disco Machine. After getting a muscley remix by Australian producer Supermini, the song would go on to pick up traction all over the world.
Having found its way onto pop radio in the UK, the track was recently deemed 'Hottest Record in the World' by BBC radio host DJ Annie Mac. A classic in the same celebratory vein as Indeep's 'Last Night A DJ Saved My Life', the song pays homage to the life-affirming qualities of the dance floor: "We dance, we make the club our home / We chant all night to free our souls / We dance!"
The five tracks on the 'Alive' EP hew closely to the same kind of euphoric feeling and affirmational vibes that make 'We Dance' such an irrefutable single. Employing a fairly nuts and bolts approach - guitar, synthesizer, lots of live drums - the songs have the kind of pop elasticity that allow them to live in a variety of worlds. Having toured and played shows with the likes of Sofi Tukker, The Presets, Ssion, Escort and Bright Light Bright Light, the duo learned just how their songs could work in a variety of different contexts, and what it takes to make a room come 'Alive'. "We joke that one of our goals is to play a jazz fest," says Chev, "We wanted to make dance music that could be played with an eight piece band - which we've done - or just by the two of us. I grew up with so many musicians and only later found my way into dance music. We're starry-eyed for club music but at the heart we love collaborating with musicians." This love of musicianship sparkles though tracks like 'Trust' and 'Alive', which pulse with Chic-friendly, 80's funk beats tailor-made for serious club rumination, but could easily swell to arena rock size. This is also true for the EP's first track 'Higher', a gospel-sized rave up delivered with an almost religious fervor. Opening with the directive to "Get up! Get up!" the song, with it's glorious refrain of "Get up to get higher!", is a propulsive argument for music as the ultimate spiritual/emotional release.
"There is a church in San Francisco that I love called Glide," explains Milan, "I was thinking of that place when we made 'Higher'. The church is this sort of non-denominational place that is also a medical center, a shelter, a community outpost. It's deeply spiritual, but not really religious. They have these services there where all of these different people of different ages, races, orientations, creeds, and beliefs come together and sing these vaguely spiritual songs. It's music and togetherness in its most pure state. People are head banging, people are taking off clothes. You have dancers jumping out of the choir and voguing. It's incredible. I was like, this is it. This is what you want your music to inspire, whether it's in a club or you're just alone in your room. This is what we want to make you feel."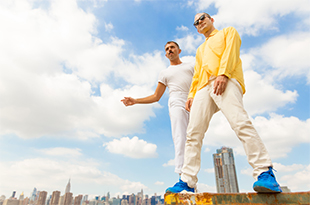 | | | | |
| --- | --- | --- | --- |
| Jan | Feb | Mar | Apr |
| May | Jun | Jul | Aug |
| Sep | Oct | Nov | Dec |