The Intergalactic Republic Of Kongo
Contact
The Intergalactic Republic Of Kongo release 'I Don't Need', the first track to emerge since signing with Wolf Tone, home of The Horrors and Glass Animals.
The Intergalactic Republic Of Kongo are like nothing else. 'I Don't Need' is a psychedelic, left field pop track built on perfect synth lines, polyrhythmic drum patterns and chanting refrains, building to an epic crescendo.
It's a heartbreak track that was inspired by a rupture in frontman and leader Mike Title's life. As he describes it:
"I wrote 'I Don't Need' broken-hearted. It's the moment you're staring into the eyes of anyone who's already left. It's the vicious lights and drowning sensation of freedom when all you desire is hope - and all you ever get is self-destruction".
Mike Title is the visionary leading this gang of musicians, brought together from across Europe, North and West Africa with a dizzying array of influences and sounds, each one essential with Mike orchestrating the chaos.
The band have announced two shows in the week 'I Don't Need' is released. Live they are incendiary, mind-bending and hypnotically compelling force as six members ferociously create an exhilarating immersive experience.
"Mixing the afro-futuristic funk of Parliament with the 'bovver' dance of the KLF or mid-career Prodigy" - Loud and Quiet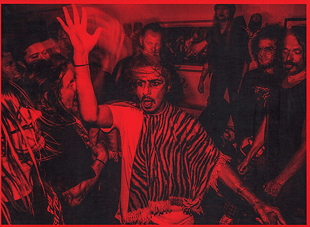 11 May, 2019

The third and final day of Brighton's The Great Escape festival in Brighton, again features many artists from the Primary Talent International roster.

Saturday 11th May:
...Gaffa Tape Sandy
...Alfie Templeman
...Charly Bliss
...These New South Whales
...Swimming Girls
...Sullii
...Amahla
...Awate
...Big Heath
...Just Banco
...Jaykae
...Talk Show
...Aitch
...Can't Swim
...Injury Reserve
...Anna Calvi
...The Intergalactic Republic of Kongo
...Saint Agnes
...Pixx

10 May, 2019

Day two of The Great Escape festival in Brighton features a whole host of Primary Talent International artists.

Friday 10th May:
...Amahla
...Greentea Peng
...LEISURE
...I See Rivers
...The Intergalactic Republic of Kongo
...Keyah / Blu
...Just Mustard
...BEA1991
...Blaenavon
...Chappaqua Wrestling
...Jockstrap
...Rachel Chinourri
...Murkage Dave
...Gia Margaret
...Self Esteem
...Aitch
...Everyone You Know
...Sports Team
...Mollie Collins
...High Contrast (DJ Set)
...404