WWWater
Contact
Humbling power, sacred shower. Soulwax-protegee Charlotte Adigery washes over you like a force of nature with a progressive mix of spiky electronics, pulsing drums and an unstoppable voice. Joined live by Steve Slingeneyer (of Soulwax fame) on drums and Bolis Pupul (a DEEWEE regular) on synths, WWWater anoints both your soul and feet. Sometimes soothing, sometimes boiling, but always refreshing. WWWater has a taste of all of Adigery's influences, ranging from The Slits to Ryoji Ikeda, Shabazz Palaces, Geneva Jacuzzi and Solange.

Photo by Tina Herbots.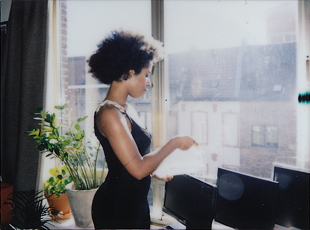 tracks=330142503
18 May, 2018

The Great Escape festival will take place at multiple venues across Brighton, from Thursday 17th to Saturday 19th May, and a great many Primary Talent International & Decked Out artists will be taking part.

Friday 18th May
...Kawala
...Pale Grey
...WWWater
...Denzel Himself
...ABQ
...TOUTS
...Canshaker Pi
...EERA
...Ten Tonnes
...BLOXX
...Nilufer Yanya
...Ama Lou
...Kioko
...Awate
...Dylan Cartlidge
...Art School Girlfriend
...Ebenezer
...Sports Team
...Malena Zavala
...Slowthai
...Connie Constance
...Avalanche Party
...Yellow Days
...Bad Sounds
...SASSY 009
...Sorry
...Erol Alkan
...Esther Joy
...Cowboy Rhythmbox

For further information, consult The Great Escape website.

28 Sep, 2017

"Humbling power, sacred shower."
The lyric from 'WWWater' describe it best - sometimes soothing and sometimes boiling, everything is waves with WWWater. WWWater flows through Charlotte Adigery, a Soulwax protegee (she contributed to various songs on their 'Belgica' soundtrack and released an EP on their DEEWEE label last March that now also embarks on a solo journey with a different sound. Her debut EP 'La Falaise' refers to 'Les Gorges De La Falaise', the waterfall in Martinique (her mother's birth country and Charlotte's second home) where she wrote most of the songs for this debut release.

'La Falaise' dips the listener in a trip in her unique universe - a diverse pallet of sounds that is built from meditative drones to Youtube samples to panned drums to what-not, with Charlotte's unique voice serving as a narrator throughout the EP. When asked about her influences she'll name anyone from Lizzy Mercier Descloux to Dean Blunt to The Slits to Shabazz Palaces - an eclectic taste that results in an outspoken sound, despite this being her first release.

Charlotte draws you in with the meditative 'Presence', a spoken word intro that puts her and the listener in a state of mind where she cancels out the always ongoing train of thoughts. 'WWWater' describes the experience of a woman surrendering herself to the water, becoming one with it. It insinuates suicide, becoming one with an element that is very much part of (everything is water) yet can easily destroy us in a different capacity. The sub-text is very much a (desperate) love story, or rather how it can sometimes result in a cold shower. Charlotte literally reads from her diary in 'Pink Letters', marking the start of a new chapter after a love story gone wrong and allowing herself to be guided by the imaginary hand that always makes sure "everything will be okay". 'My Hands' is built around a sample from an ASMR session - short for Autonomous Sensory Meridian Response, a rare syndrome where people are highly sensitive to audiovisual experiences like ear eating, a hair dryer other delicate sounds which results into some sort of "braingasm" - which is being contrasted with an energetic vocal and drum performance.
The song is about hurting someone else with your hands and begging for them to be taken away so it's no longer possible to create such pain. Despite sounding positive on 'Mine Yours' the story is yet again quite grim: desperately trying to create a new and better life, two lovers grow apart because they just try to hard.
| | | | |
| --- | --- | --- | --- |
| 29 Jun 18 | | Gent Jazz Festival | Gent, BELGIUM |
| 30 Jun 18 | | Down The Rabbit Hall | Beuningen, NETHERLANDS |