Coco
Contact
Coco continues his rapid ascent with the release of the compelling 'Waters Run Deep' featuring an inspired collaboration with the urban scene's sweetheart, Shola Ama and fellow Sheffield spitter, Deep Green.
The soft instrumental bed radiates a warm and deeper edge to Coco's sound as he leads his vocals from Shola Ama on the opening hook. From the instrumental, the variance in tone of the three contributing vocals accentuates mystery and empathy, whilst we get a raw edge of reality from the rougher vocals of Coco and Deep Green.
Coco's artistic unpredictability and vision to experiment with different flavas and styles has made for an inspired catalogue of music over the last 18 months, resulting in him hitting the polls as one of the '15 MC's Out Of London You Need To Know Today' via Complex Magazine and being chosen as 'One To Watch in 2016' for MixMag by Annie Mac. From the hefty grime remix of 'Big N Serious' with MOBO nominees AJ Tracey and Nadia Rose, through to his recent Jamaican-peppered collaboration with Protoje, (making him the first UK act to collaborate with one of the biggest reggae stars across a grime beat), Coco has taken a fearful and inspiring route to releasing music in 2016; making the music speak for itself.
Finishing what has been a defining year for the Sheffield native, which has seen him perform at Glastonbury on the BBC Introducing stage, alongside Stormzy at Ibiza Rocks, Red Bull's Manchester Carnival, Notting Hill Carnival, Bestival and the Royal Albert Hall for Jamie Cullum's BBC Proms, Coco gives an idyllic and retrospective send off to the year with 'Waters Run Deep'.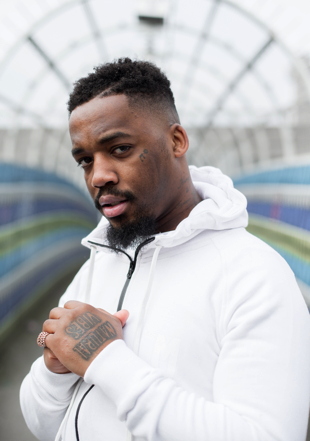 04 Mar, 2016

Named as one of Annie Mac's artists to watch in 2016 for the latest edition of Mixmag, the all round Sheffield don that has exploded on to the scene in 2015 with tracks 'Big Bou Yah' and 'Target Practice', Coco shows why he's the man that everyone is talking about by delivering his brand new, and aptly named single, 'Big N Serious'.

Kicking things off with a throwback 80's hip-hop intro think A Tribe Called Quest, Run DMC kind of vibe with those big brass samples blasting through - Coco's vocal gets a dose of mash-up to create a crazy catchy hook that instantly gets your attention. And then the bass kicks in!
Coco owns it from the get go as he sprays across the verses like a machine and delivers his bars with the distinct tone and timing that he's fast becoming recognized for.
'Big N Serious' is previewed on i-D.

www.i-d.vice.com/en_gb/article/premiere-coco-big-n-serious

26 Oct, 2015

Coco unveils his new video for the track 'Big Bou Jah', premiering on SBTV.