HEX
Contact
"I call myself Hex because I feel like I'm cursed by music because I've always done it," explains the twenty-year-old "I've always gone back to it even when I haven't meant to."

Born and raised in Nottingham, Hex has been couched in musical tones from a young age, slowly weaving a patchwork of influence and experience that's now made him the artist he is today. His dad played in a band, paving the foundation for Hex learning his way through the guitar, while his mother played a collection of varied CDs through the house, alerting Hex's ears to new sounds.

"I didn't know what I wanted to do to be honest. Through school I was always being asked 'What job do you want?' I never really knew," says Hex of his early life growing up in this environment. "So, I kept going back to music. It clicked in my head and I kept doing it, even when people were like 'So many people do music and they're not anywhere'".

However though he worked through various projects as a teenager, teaching himself Fruity Loops to produce grime beats to upload to SoundCloud and YouTube, it wasn't until two years ago that he found the distinguished melodic sound you can hear on his debut track 'Me, Myself and I' and its follow up 'Limitless'. The two tracks marked a departure from rapping and a new, atmospheric, starkly emotional world of Hex's own. Where other acts meander around the surface level, Hex burrows into the core of a feeling, emerging from the depths with a distinct snapshot from the roots of an emotion.

"I want people to soak in the feeling," Hex explains, drawing upon the way he writes songs - often tuning into the feeling of a melody, the rawness behind it, capturing the essence of its meaning through sound, with the lyrics often slotting in after. "When people are older, I want them to hear it and have that feeling I have when I listen to things I heard when I was younger," he says, citing some of his musical heroes - many of whom are great bastions of portraying universal emotion in a uniquely direct way.

Hex's influences are eclectic, ranging from the frank openness of Amy Winehouse to the cutting edge experimentation of Gorillaz. His biggest influence, he says, is Michael Jackson - "He had the whole swag. He was bossing moves, them kicks!" - whose performances have filtered their way into the visual aesthetic of 'Me, Myself and I' and 'Limitless'. Though the first video sees Hex roaming the shadows, hooded-up in thought, the second boasts a brash performance - a key representation of an artist for whom showmanship is a celebration, an integral part of his artistic toolbox, the duality to his pensive, reflective side.

It's not only the performance that represents this other side to Hex, either. 'Limitless' sits on precipice, slotted comfortably between two opposing sides that make up Hex's whole.
Where 'Me, Myself and I' is rooted in contemplation, written through the pains of a break-up and lack of trust, 'Limitless' picks things up a little. Thoughtful yet swaggering, it's Hex with a little sauce flowing around his body, calmly stepping his way into the party, ruminating on a "body moving like ballet". And if 'Limitless' sits on a peak, his next single 'Gene Kelly' demonstrates that other performative, sprightly side.

The track, which Hex produced himself, operates in the centre-point of a party - the moment when everything slots into place, problems are forgotten and the night is a smooth slide into new pursuits with new people. "She left the club and said call me at 3, but I'm cheeky and I'll holla at 3:20," Hex sings, coaxing his nocturnal mission statement over a beat tinted with the sound of the UK's afro-swing movement. That's not to say it's less deep than his other tracks though, more that Hex is capable of capturing these two sides to his persona with bold, forthright depth.

"You do some tunes for partying but, to me, music is still really deep," Hex explains of these two opposing sides. "It's really special. Whatever it is, it's always referring to a part of my life - it's real stuff. It's life experiences and things I've learnt."

And that's it, really - the defining statement at the bedrock of Hex's work. For an artist who has been enveloped in musical discovery from the earliest of ages, he is continually learning, expanding his world to bring in more palettes and tones. Recorded in his home studio (paid for after stints in hotels and warehouses), 'Gene Kelly' even features some of his dad's musicianship after Hex realised the track would be fitting of a Spanish guitar riff, which his father aptly provided. His music is a natural progression, a sound of his own, a tapestry of all the components making up his life so far.
Hex may call it a curse but so far his tracks hold a mirror to the opposing intensities of the human experience.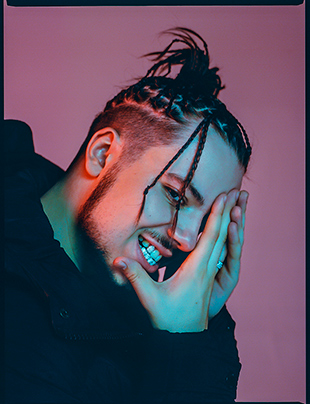 tracks=312890060